Steelwork specialist Severfield-Rowen built a reputation on large-scale, complex projects but its chief executive stood down last week after cost overruns on the Cheesegrater. Iain Withers looks at the issues facing the firm and the wider specialist sector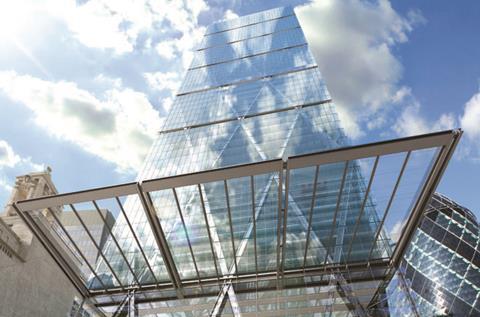 One of the UK construction industry's largest specialist contractors has experienced a humbling year. Listed steelwork specialist Severfield-Rowen - the firm behind the crown-shaped structure of the London 2012 Olympic stadium - has issued three profit warnings over the past eight months, due to poor UK trading conditions and cost overruns on a series of major projects. The final profit warning last Wednesday forced chief executive Tom Haughey to stand down with immediate effect and the firm into funding talks with its banks.
It also emerged this month that two of the contracts hit by cost overruns are among its highest-profile projects - the Shard and Cheesegrater tower, both in London - the kind of complex jobs the £267m-turnover firm had built a formidable reputation for delivering over 34 years in business. A dispute with rival steelwork contractor Cleveland Bridge, and other unrelated issues, led to costly delays of about nine weeks on the Shard, while site issues during construction of the Cheesegrater tower were behind the firm's latest profit warning.
So why has the North Yorkshire-based firm found itself in this predicament and what does this tell us about the issues facing the wider specialist contracting sector?
Severfield-Rowen's problems
After two profit warnings - in June and November last year - and unimpressive financial results for the first half of the year (see below) details emerged this month of problems on the Shard and Cheesegrater.
The Shard revelation came in a High Court judgment on a legal battle between Severfield-Rowen and its subcontractor for the first nine floors of the 72-floor tower, Cleveland Bridge. Severfield-Rowen received £824,478 in damages for problems with Cleveland Bridge's work, which led to a 38- day delay on the job. But as part of the same judgment, Severfield-Rowen was ordered to pay the subcontractor £928,472 plus VAT in outstanding fees due under its subcontract, more than negating the firm's damages win.
More significantly, the court judgment also revealed that Severfield-Rowen had racked up further delays on the job after Cleveland Bridge's work completed and that the delay had increased to nine weeks by the time work had reached floor 40 in December 2010. The court papers said under its contract Severfield was "faced with a very substantial liquidated damages liability to Mace (£500,000 a week)" of delay, although it is not known whether this contract clause has been enforced.
Last Wednesday the full extent of the steel firm's problems became clearer still. As well as announcing Tom Haughey's resignation, the firm issued a further profit warning and admitted the Cheesegrater contract had also been hit by cost overruns. The board said a change in leadership was "required to re-establish confidence with all the group's stakeholders" and replaced Haughey with chairman John Dodds, the former Kier chief executive, as interim executive chairman. The company also revealed it is in discussions with its lending banks regarding compliance with its covenants and announced a review of all the firm's contracts to "further update" the market of any further "financial impact". The firm's share price dived 35% to 78p, from the previous day's close of 120p. After fluctuation, the price remained at 78p on Tuesday.
Building approached Severfield-Rowen but the firm declined to comment in any further detail beyond its Stock Exchange announcement.
Industry sources told Building construction of the Cheesegrater is running behind schedule - in part because of delays erecting Severfield-Rowen's steelwork.
However, the same sources say principal contractor Laing O'Rourke is working to catch up the delay and is capable of doing so, given the long timescale on the complex job. Client British Land, when asked whether there was a delay, said: "We are on schedule and on budget at the development". Analysts believe Severfield-Rowen is likely to make a multimillion-pound loss on the contract, which is thought to be worth about £50m-£60m.
Competition from abroad is pushing prices down which makes it all the more difficult if something goes wrong

Alan Todd, British Constructional Steelwork Association
A number of sources say the bidding for the Cheesegrater's steelwork package - which took place 18 months ago, when the market was particularly stagnant - was fierce, with a number of bids from European competitors.
One source said: "I know a number of people who were interested and they all saw it as a very difficult job. The price range on the steelwork bids was vast - it was always going to be a difficult job as there was no head room." An analyst told Building he believed the contract had a tight margin but said he had been "reliably informed" the contract was "not priced incorrectly" and cost overruns had resulted from "site issues".
Kevin Cammack, an analyst at Cenkos Securities, says the priorities for Severfield-Rowen - which he expects to make a full year loss of £2m-£3m - should be to find a new chief executive and resolve its funding issues with its banks. He warns that the firm may require a rights issue to raise more equity as "the banks will probably be unwilling to extend credit".
Trouble for specialists
Industry leaders agree that Severfield-Rowen's problems are an example of wider issues facing specialist contractors from a tough market, cut-throat bidding, increased risk and intensifying international competition.
Mike Peasland, Balfour Beatty construction services UK chief executive, says specialist contractors face a "double whammy" from low bids and taking on more risk on jobs. "I think the supply chain is being squeezed," he says. "Clients are adding more risk - such as tougher financial penalties - to jobs, meaning a greater transfer of risk, which some principal contractors are passing down the supply chain. Specialists are accepting more risk at lower prices and have little comfort if things do go wrong."
Like the bidding war for the Cheesegrater steelwork package, many specialists are encountering an increasing number of bids from international rivals. Last January a Chinese-led consortium won the largest steelwork package in the country, for the Forth Road Bridge. Alan Todd of the British Constructional Steelwork Association says UK steelwork firms are facing competition from countries like Spain and China, particularly on infrastructure projects, which forces prices down. "The poor state of the market and increasing competition from overseas has pushed prices down - which makes it all the more difficult if there are problems on a job," Todd says. He warns: "Overseas competition may look very competitive on paper but checks need to be made to ensure there is a level playing field on health and safety, quality and environmental legislation." Chinese firms have also begun to establish themselves in the specialist cladding sector, where China-based Yuanda is working with Severfield-Rowen on the Cheesegrater tower.
These market pressures have pushed a number of high-profile specialist contractors under during the past year, but Mark Lacey, head of commercial sector UK at EC Harris, believes more specialist contractors must be lost before tender prices can recover. "If you do a close reading of the insolvency statistics from 1993 to 1995, they peaked before workload recovered - it was industry consolidation and general stabilisation of the economy which drove prices. We expect a similar pattern if capacity is lost."
Nobody has predicted Severfield-Rowen will join the growing ranks of collapsed firms and it would be unfair to do so. But its problems can be seen as just the tip of the iceberg for the sector, as specialist contractors feel the brunt of a brutal marketplace.
SEVERFIELD-ROWEN'S DIFFICULT YEAR
| | | | | |
| --- | --- | --- | --- | --- |
| 11 JUNE 2012 | 21 AUGUST 2012 | 5 NOVEMBER 2012 | 9 JANUARY 2013 | 23 JANUARY 2013 |
| First profit warning - share price drops 7% to 153p. Severfield-Rowen issues a profit warning due to cost overruns on two unnamed "complex" projects in the UK. | First-half results to 30 June 2012 - share price drops 4% to 140p. Pre-tax profit drops 56% on the previous year to £1.5m from £3.4m. This was on revenues of £135.9m, indicating a wafer thin overall profit margin of just 1.1%. The firm announced its intention to merge three of its UK businesses - Severfield-Rowen Structures, Watson Steel Structures and Steelcraft Erection Services - in an effort to boost efficiency and margins. | Second profit warning - share price drops 24% to 104p. Severfield-Rowen announced cost overruns - attributed to a "small number of contracts" and "re-phasing of other projects by clients" - had hit its profit expectations. The firm also announced 50 jobs would be cut. | Details of Shard legal battle emerge. | Third profit warning. Chief executive Tom Haughey resigns and the company enters funding talks with its banks. Share price drops 35% to 78p. |