The communities secretary used this year's Alan Cherry debate to argue that the way to increase housing supply is through a full-blown return to off-site manufacture. But not everybody was convinced, as Joey Gardiner reports
The Panel
Joey Gardiner, Deputy Editor, Building (chair)
Professor Christine Whitehead OBE, London School of Economics
Pat Hayes, Executive Director of Regeneration & Housing at the London Borough of Ealing
Brendan Sarsfield, Group Chief Executive at Family Mosaic
David Lunts, Executive Director of Housing and Land at the GLA
Andrew Brentnall, Head of Funding & Development, Residential Capital Markets at Savills
Richard Cherry, Deputy Chairman and Group New Business Director at Countryside
Guest Speaker
Rt Honourable Eric Pickles MP, Secretary of State for Communities and Local Government
'We need you to do three things: Firstly, to build. Secondly, we'd like you to build. Thirdly, we'd like you to build." So said communities secretary Eric Pickles in his opening address to this year's Alan Cherry debate, set up in memory of the late founder of housebuilder Countryside. The debate was held on the week that Bank of England governor Mark Carney hit the front pages by calling for a doubling in housing output to keep homes affordable. The same week house price figures were published, showing rises of over 17% in the last year in London, to an average of nearly £500,000.
Unsurprisingly, therefore, the subject of the debate was raising the supply of housing in the real pinch points of London and the South-east. As the final speaker, Richard Cherry, deputy chairman of Countryside and son of Alan, said, this new public profile could be used to make a difference. "Our industry has probably got more political support and attention than we've ever had. How long it will last, who knows, certainly we want to enjoy it while we can."
While there was a degree of consensus around how to approach increasing housing output, not all the participants shared exactly the same vision of how it could be achieved. There was certainly no doubting that the most controversial suggestion was that laid out early on by Pickles, namely the widespread expansion of the use of modern methods of construction to speed up delivery of new homes.
Pickles said he had recently seen the evidence of the benefits of the approach on the 51-home New Road scheme in Rainham, Essex, which is being built at the rate of one a day to Passivhaus standards, saving future residents up to £890 a year in energy bills.
Pickles said: "We're making progress. The number of people we're getting on to the housing ladder is at an all-time five-year high.
"But there's something missing from all this good work, it's a sophisticated and modern answer to all our housing needs. That is, off-site construction. Off-site construction isn't just fast, but when combined with new energy saving methods it can be a real money saver, too."
You must free your mind from the idea of boxes. The modular system gives a great deal of flexibility

Eric Pickles, Communities Secretary
He said the government would promote new technologies such as cross-laminated timber, and sought to head off concerns over the perceived inflexibility of design of prefabricated homes. "The things we were looking at five years ago are a million miles away from what we're at now," he said. "They were miserable, mean and horrible little dwellings, from which B&Q made a fortune because everybody would go and retrofit various equipment. You must free your mind from the idea of boxes. The modular system gives a great deal of flexibility."
Nevertheless, Pickles' exhortations over off-site manufacture were challenged by other speakers, in part because the new technologies were seen as unlikely to raise output levels that are driven more by economic factors and sales rates than by construction timescales.
Pat Hayes, executive director of housing and regeneration at the London borough of Ealing, said: "There are things you can do off-site, it does help reduce costs and speed up build. But our housing dilemma is not about delays on build delivery, it's about delay on site assembly and getting stuff rolling through."
Brendan Sarsfield, chief executive of housing association Family Mosaic, said the volatility of the housing market made large-scale investments in housing factories difficult to justify: "In the UK we have a boom and bust - Barratt had its own factory last time we had a boom, then when the slump comes it doesn't get the orders."
He also raised the spectre of past experiments in prefabricated build methods on social housing estates, which had been seen to contribute to social problems and stigmatisation. "Historically governments have used the public sector and housing associations to be the cutting edge, and that's why we want to demolish the estates he's talking about, because they're not market-led products."
Christine Whitehead, professor of housing at the London School of Economics and Political Science, echoed this view. "I've done this exercise in off-site five times in my adult life. It's not a new phenomenon. We have to be certain that it's going to be better quality, and the management which is going to occur is all going to be in place. The evidence is we cannot do that."
Our housing dilemma is not about delays on build delivery, it's about delay on site assembly and getting stuff rolling through

Pat Hayes, London Borough of Ealing
Audience member Ben Derbyshire, managing director of architect HTA Design, said: "I was fairly astonished that the secretary of state's reaction to the problem being debated today was to talk about off-site manufacture. I wonder what is going on at CLG [the communities department]."
The reaction was not wholly negative. Countryside's Richard Cherry said off-site manufacture had some benefits, particularly on schemes with repetitive design. However, even he said widespread use could cut against the desire to improve housing design. "I think there are big challenges with design, particularly where bespoke design is required for the scheme. So it's an opportunity, but perhaps on a limited basis."
However, panellists did have a range of other ideas to tackle the shortage of supply, currently running at half the level required. Suggestions included those by Cherry himself, who said landowners could retain equity stakes in projects to aid sales, and said Labour's proposed "use it or lose it" policy designed to prevent land-banking be extended to the public sector.
But the biggest opportunity he saw, also mentioned by Pickles at the start of the day, was for estate redevelopment. "Local authorities own circa 500,000 homes across London with tens of thousands more across the South-east. A considerable proportion of this is on estates that have redevelopment potential. We're very excited by the potential that the redevelopment of these housing estates gives the industry."
A number of panellists mentioned the potential of the private rented sector, driven by a surge of investment by financial institutions, to generate greater housebuilding activity. Andrew Brentnall, director of residential capital markets at Savills, said: "By targeting the private rented market, you're effectively encouraging another way for housebuilders and developers to sell into the market [meaning] they can speed up the delivery of their schemes by selling in to a new buyer."
The Greater London Authority's (GLA's) executive director of land and investment, David Lunts, brought 10 separate ideas of his own - including ways to allow councils to build more through off-balance sheet housing companies, and the creation of a public database of all government-owned land in the capital. But he admitted that the GLA didn't have all the answers: "Arguably housing is now the single greatest unresolved policy dilemma this country faces."
By the end of conference, resolving that dilemma had, hopefully, got that little bit closer.
The Alan Cherry Award for Placemaking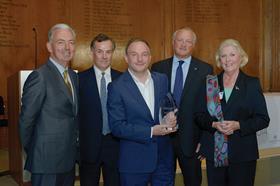 This year's winner of the Alan Cherry Award for Placemaking was Jonathan Speed, the former director of Barking Riverside for the Greater London Authority.
The placemaking award was set up in 2011 to recognise the contribution that leading figures in the public sector make to the physical quality of the communities they work in. Speed (pictured above, centre), the third recipient of the award, has made a huge impact on building a new place in a run-down part of east London, virtually from scratch.
He has worked within housing and regeneration for over 15 years. On his secondment from the GLA he transformed Barking Riverside from being a scheme stalled due to a multitude of problems, to being winner of a 2013 Housing Design Award and named Development of the Year at the 2013 British Homes Awards.
He is also a founding director of the Barking Riverside Community Interest Company, set up to hold and manage the new development in the interests of the community ensuring best use of all the facilities and assets in the long term.
Countryside deputy chairman Richard Cherry said of his work at Barking Riverside: "The development has the community and place making at its heart with the social infrastructure being developed alongside the homes."