By the time it went bust, Carillion's accounts had more holes than an Emmental cheese. Invited by MPs this week to explain how the construction and FM giant collapsed so precipitously, the firm's former bosses revealed something of the mess they got themselves into.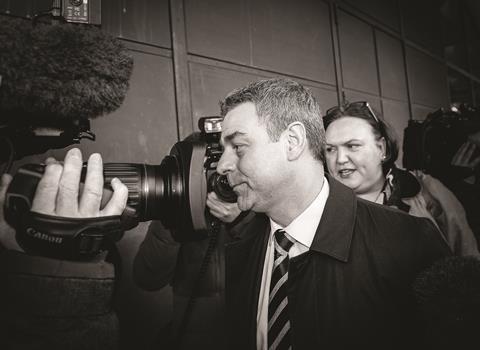 If he was hoping for an easier ride than some of his former, more high-profile colleagues in front of MPs this week, then Zafar Khan, sacked as finance director of Carillion last September after just nine months in the role, certainly didn't get one.
Someone had to cop it for one of the most dramatic corporate failures in recent years and, given a stumbling performance, Khan was that person. Listening to him admit that he was "surprised" Carillion had gone bust, deny that he had been "asleep at the wheel" and insist that he done everything he could have done to prevent the business from subsiding, was an incredulous Rachel Reeves MP who rammed home the message that just because he'd said all of that did not necessarily mean she was going to believe him.
The Labour member of parliament, who is chair of the business select committee, which is looking into the collapse of Carillion jointly with the work and pensions select committee, laid on the scorn in bucketloads.
"Four months after you left, the company went into liquidation with just £29m left […] but you did everything right at the right time – well done, Mr Khan"

Rachel Reeves MP
Reeves, who once worked as an economist for the Bank of England before being elected to the House of Commons eight years ago, told Khan (pictured below): "Four months after you left, the company went into liquidation with just £29m left […] but you did everything right at the right time – well done Mr Khan."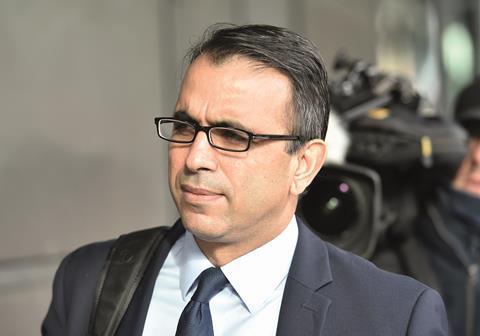 Half an hour later, it got worse for the man who spent a total of six years at the company and who had to be reminded by an irked Reeves that his time at the bust firm wasn't just limited to his nine months as finance director – he had previously been its group financial controller for four years. He told one MP, Conservative Heidi Allen, that during his tenure as finance director the debt had gone down.
Unfortunately for him, Reeves pounced on this lapse – it hadn't gone down at all – and made him pay for it. Forced to admit that debt had actually "increased through 2017", Reeves refused to let his blunder go unnoticed. "You are a CFO, you just said the debt went down. Did the debt go down?" "No," he replied. But it was too late. Reeves wasn't going to let it end there. "I just wondered because you just said to Miss Allen, that it did. It didn't, no?"
It wasn't the only example of problems with numbers at the firm that MPs were to hear in just over four hours of questioning of senior Carillion executives. Interim chief executive Keith Cochrane said the £845m writedown figure that was announced on 10 July last year – the first time when the wider world got to know about the sorts of holes being blown in Carillion's accounts left, right and centre – had in fact been revised upwards, by him. Cochrane said that on the weekend before the number was published on the Thursday, he had adjusted it north. "It was all about materially derisking the position," he explained. Frustratingly, by how much it went up was not disclosed but the revelation helped underline how much the wheels had come off one of contracting's giants in a few short months last spring and summer.
Khan's missteps on Tuesday morning could be read as yet another example of the wider blunders the firm made, which saw the end game reached nearly four weeks ago when the company announced it had gone bust.
Something close to an awareness of the truth of the firm's predicament came when the committees published a recovery plan that Carillion directors drew up in the days before its liquidation. It admitted it had operated with "an overly short-term focus, weak operational risk management and too many distractions outside of our 'core'".
But even as late as 7pm on 13 January, a Saturday – 36 hours before Carillion went under – interim chief executive Keith Cochrane was still hoping that a government bailout of the firm would take place. That weekend he and other executives were locked in talks to get the government to agree to a loan deal after its banks had said no.
"But for a few very challenging contracts, predominantly in Oman and Qatar, one in Qatar, I believe that Carillion would have survived

Richard Howson, former Carillon CEO
What Cochrane hoped the government would accept was a £160m short-term funding loan, which would then be paid off by April.
"Banks and shareholders had lost already," the Scot admitted. They were stuffed, in other words. Approaching its largest customer – the government accounted for 45% of its business – was an "entirely natural" thing to do, Cochrane reasoned. He said the strategy would have benefited employees, customers, suppliers and its pension fund, adding: "It made a lot of sense."
Reeves, however, saw it differently. The taxpayer was being asked to bail out the business. "In the end," she said, "the government didn't believe you could deliver on that and so decided not to give you that £160m of taxpayers' money."
Listening and adding his own thoughts throughout was Reeves' counterpart at the work and pensions committee, Labour veteran MP Frank Field. "This was," he surmised, "a house of cards that could fall down at any moment."
That it didn't any sooner genuinely seemed to baffle some MPs, especially when they listened to the evidence of Richard Howson, its former chief executive. Howson, in contrast to the rather robotic Richard Adam – the firm's finance director throughout much of Howson's helmsmanship who retired from the business at the end of 2016 – did appear to at least try to explain why, in his opinion, the business had collapsed.
Two main themes emerged from Howson's testimony, whether he meant them to or not: if you can avoid working in the Middle East, then do; and, secondly, contracting is a very hard business to make money in.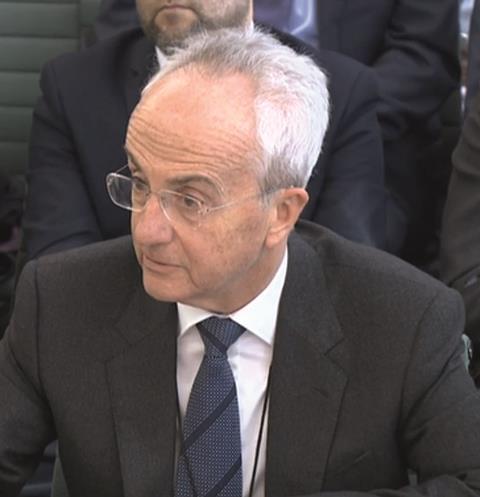 What MPs thought
In a joint statement issued after the hearing, committee chairs Frank Field and Rachel Reeves said: "This morning a series of delusional characters maintained that everything was hunky dory until it all went suddenly and unforeseeably wrong.
"We heard variously that this was the fault of the Bank of England, the foreign exchange markets, advisers, Brexit, the snap election, investors, suppliers, the construction industry, the business culture of the Middle East and professional designers of concrete beams.
"Everything we have seen points the fingers in another direction – to the people who built a giant company on sand in a desperate dash for cash."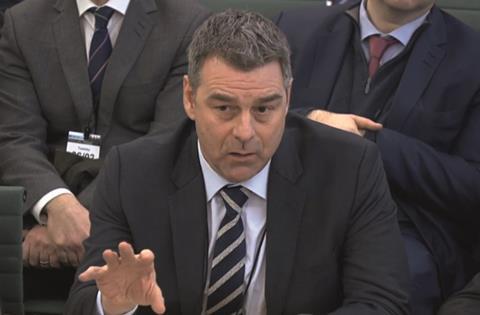 Problems abroad
MPs, already reeling from Cochrane's earlier admission that Carillion had not been paid for its work on a scheme in Qatar for 18 months, heard how Howson paid 60 visits to the Gulf state in six years to discuss payment. "I felt like a bailiff," he lamented. "Just to collect cash."
The firm had gone looking for work in the Middle East, Qatar and Saudi Arabia in particular, after it decided to reduce its UK construction business in the teeth of the recession. Only the decision to try its hand in Qatar backfired spectacularly, with Howson telling MPs the firm's one and only contract in the gas and oil-rich state had racked up a £200m unpaid bill by the time he left.
"Thankfully" the firm had just the solitary contract in Qatar, he told MPs, which seemed an unusual word to use. Carillion didn't have a near-miss in Qatar, it walked right on to the end of a knockout blow that, if you believed Howson, it was the main force that felled the firm.
At the start of his evidence, he spoke fondly of the firm he'd worked 22 years for and joined as a design co-ordinator. "It was a great business," he said. "It delivered hundreds and hundreds of projects very successfully all around the world. But for a few very challenging contracts, predominantly in Oman and Qatar, one in Qatar, I believe that Carillion would have survived."
Cochrane had said the job in Qatar, a scheme to redevelop downtown Doha ahead of the 2022 World Cup for developer Msheireb, had doubled in size and undergone 2,500 design changes.
Howson elaborated further. The firm was owed £200m, 40,000 new drawings had been issued, the job was taking longer and longer to finish, so much so that it needed a small army of workers – 12,000 – to complete it. And, he added, it's still not finished, with work expected to complete at the end of this year.
The way to get paid in the Gulf, he added, was not to fire off threatening letters or send in the lawyers. "In my experience, the only way to ensure you are paid reasonably in the Gulf is through personal relationships." Though given Carillion signally failed to get paid, you wondered how valuable the advice is. His testimony was surely enough to make some people thinking about working in the Gulf, think again.
"This morning a series of delusional characters maintained that everything was hunky dory until it all went suddenly and unforeseeably wrong"

Joint statement from committee chairs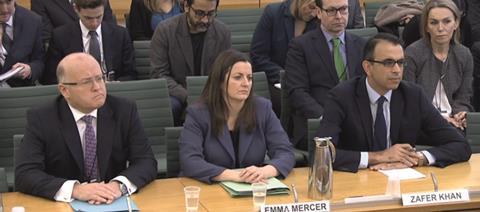 Problems at home
Howson listed the other problems that holed the firm, some closer to home and some on the other side of the Atlantic. He wouldn't have bid the Aberdeen bypass scheme, a fixed price, lump sum contract that cost it millions and saw it land its partners on the scheme, Balfour Beatty and Galliford Try, with an £80m bill when it went bust; problems with cracked beams at the Royal Liverpool Hospital PFI, now delayed into next year, another victim of the collapse, meant they had to be ripped out and replaced at a cost of £20m; while the firm also ran into little-known problems on jobs to build two railway stations in Canada. These started in 2008 and 2010, both finishing last year, but had caused sufficient damage that Howson decided to pull the plug on that part of the business back in 2013.
No wonder it got into support services with its higher margins and long-term work streams. But even here it was fatally hobbled. Under this strategy, it bought Mowlem and Alfred McAlpine within the space of two years a decade ago. Howson revealed one telling legacy of those deals. "Sixty-five per cent of the pension deficit is from the Mowlem/McAlpine acquisitions." In other words, Carillion were about chasing better margins and halving its UK construction workload to £1bn. Addressing the pension deficit, it seemed, could wait.
While both Reeves and Field at the end of the hearing sought to shame Howson and others into handing back the money they had earned during their time at the firm – an easy headline-maker even if the sums mentioned (chairman Philip Green said he picked up around £900,000 for his three-and-half years there) were hardly eye-watering – for construction the blows meted out to the seven people who appeared on Tuesday are harder to ignore.
That construction has a recruitment problem and an image problem is well known. Flying banners that shout "Improving the image of construction" from its sites, is an open admission of this problem. No other industry so obviously tells passers-by that it's not up to scratch. But Tuesday's hearing was an insight into how a contractor can also get itself into a mess in the boardroom and not just on a muddy site.
Howson said his business was managing 300 or 400 contracts at any moment in time. Told by Conservative MP Antoinette Sandbach that 14% of them were in debt and therefore at risk, Howson shrugged it off and replied: "Yes, because of the nature of contracting." After Tuesday, some might think the nature of contracting is what makes construction an industry they wish to avoid.