High-performance aluminium curtain walling, solar control facade and high-strength laminated safety glass (the latter for a lion enclosure) are some of the products for specification featured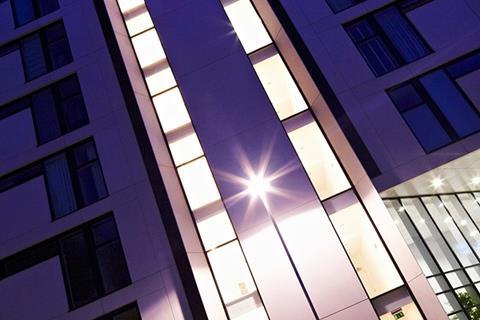 Curtain walling
Approximately 6,000m2 of high-performance aluminium curtain walling from Wicona has been chosen for new build apartments in a London suburb. The 15,000m2 scheme provides a collection of 124 contemporary apartments – 91 for market sale and 33 for affordable housing and office accommodation to the ground floor. The southern elevations have horizontal emphasis with expressed solid and recessed glazed linear bands that alternate up the facade created from Wicona's WICTEC 50 stick curtain walling. All the facade systems were dual colour – finished in dark grey externally and white internally – and had to reach Secured by Design standards.
Wicona
www.wicona.com
Movers and Makers
Aluminium facade specialist Kawneer has released a brochure on its framing and sliding solutions. The A4 brochure features product detail drawings and applications guidance as well as product selectors, product and performance data and project case studies. It gives an overview of Kawneer's framing systems range, including the 451PT system, which was developed in conjunction with Scape. It is suitable for new-build and refurbishment projects in the commercial sector and for large display windows in the retail sector.
Reynaers has introduced a CPD certified module on its website accessible to anyone. Entitled "Introduction to Unitised curtain walling", the module presents a comprehensive guide to the facade system and includes a series of questions in order to qualify for CPD credits. Successful completion of the module gives 60 minutes of CPD credits. It can be accessed at www.reynaers.co.uk/en-UK/thisisnotaunitisedfacade
EOS Facades has announced that the company has been acquired by dry construction solutions company, Siniat. The acquisition follows a decade of investment in developing the EOS Facades product and service range, underpinned by investment in design and manufacturing technology. EOS has been involved with high-profile projects such as the £80m North West Cambridge Development, Fulham Wharf, and Enderby Wharf.
Cladding specialists Cembrit has added BIM objects to its fibre cement slates and fibre cement ridges ranges. This initiative is part of an ongoing process that will see the whole Cembrit product portfolio available as BIM objects. Cembrit's BIM objects contain detailed dimensions, product specifications and other key details, with 3D images to add into virtual model and simulated building designs.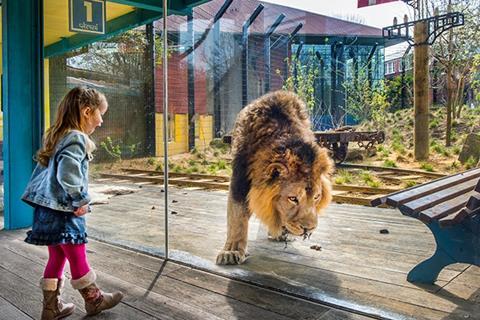 Laminated Glass
Specialist manufacturer Romag has supplied more than 60m2 of its AirGlaz toughened laminated glass to provide transparent safety walls for the viewing sections at the Land of the Lions enclosure at London Zoo. The AirGlaz construction was designed specifically for the enclosure to combine anti-reflective properties with maximum strength. Installation work was completed over a five-month period by Northampton-based industrial glazing specialists Cox Design and Manufacturing, which also designed and installed parts of the structural steelwork to hold the glass panels securely in place.
Romag
www.romag.co.uk
Fibre cement cladding
Marley Eternit has extended the colour options of its Cedral Click range to 21 factory-applied colours. The range features shades including Violet Blue, Burnt Red and Pewter, allowing housebuilders and self-builders to add their own personal touch to their project. The company claims Cedral Click is the UK's first tongue-in-groove fibre cement cladding material, requiring only one installer to simply install the boards and create a flush fitting aesthetic. Marley Eternit's online Cedral Colour Selector has a "request a sample" feature to ensure exact requirements are met before installation.
Marley Eternit
www.marleyeternit.co.uk
Solar control facade
Pilkington United Kingdom Limited has launched a new solar control product, Pilkington Suncool One 60/40, which will be manufactured at the company's site in St Helens. As the latest addition to the Pilkington Suncool Range, Pilkington Suncool One 60/40 is an offline coated mid-range solar control product with a thermal insulation U-value of 1.0 W/m2K. It has been designed for use in commercial and high-end residential settings to reflect heat back into the property and improve thermal efficiency.
Pilkington
www.pilkington.co.uk
Colour navigation system
Tata Steel has launched a colour system that navigates specfiers to the right Colorcoat pre-finished steel product and shade for their metal roofing or wall cladding project. Colorcoat Compass is a digital system that works alongside a specially developed colour measuring instrument to return a detailed colour scan. The system also features a useful RAL colour search function and furthermore by working with leading colour experts, the system can also suggest complementary colours. The company claims users can make an informed choice when using Colorcoat Compass as it provides comprehensive information in one place.
Tata Steel
www.tatasteelconstruction.com
Lightweight cladding
Lightweight exterior and interior cladding from Cristofoli International has been specified throughout a Next store in High Wycombe. The company claims their cladding was chosen as through using honeycombed back stone, panel strength improves drastically allowing for large format panels. This also means less grouting, less fixings and less cutting. The external finishes feature Jura limestone, including main facade areas along with columns and sofits, with the internal finishes using customised textured finish.
Cristofoli International
www.cristofoli.net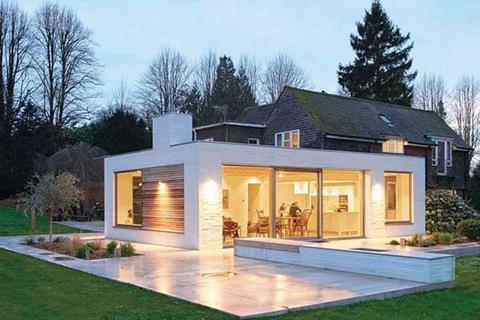 Linear Bricks
Forticrete's decorative Linear bricks have been specified for the construction of a 250ft2 single storey extension at a four-bedroom cottage in Reigate, Surrey. The modern design of the period house's extension is complemented by the internal and external use of a number of natural materials. As project architects Jason Good Architecture specified Forticrete's Shot-Blasted Linear bricks in Ivory to create a bold, sweeping horizontal effect across the cottage's external facade.
Forticrete
www.forticrete.co.uk