This week, a diversity day at British Land, a record charity haul at the Building Awards, Cemex's new boss takes an ethical tour of London and a school playground designed by Foster + Partners
Alwight, man?
I'm told British Land recently hosted a diversity and inclusion day for its suppliers at the developer's Marylebone head office. None other than Ray O'Rourke gave the keynote speech. But I was curious to discover exactly who the Laing O'Rourke chairman was speaking to. A mole tells me that as far as he could make out the room was overwhelmingly white and male. Fair play to British Land but some way to go, then.
Man of the match
Well done to all those who raised a record £30,000 for the Prince's Trust at this year's Building Awards. The fundraising included a silent auction with Turner & Townsend boss Vince Clancy triumphing with a bid for a hospitality package to watch Crystal Palace play runaway Premier League leaders Manchester City on new year's eve. The reserve price was £650 and I'm told Clancy, who picked up the chief executive of the year award later that evening, paid rather more than that. An avid Palace fan, he'll no doubt take no notice of one wag's comment that he's shelled out rather a lot to see his team get a bit of a thrashing from a team that is currently averaging more than three goals a game.
Running out of space
The running track at Derwent's White Collar Factory at Old Street roundabout is proving so popular that those wanting to use it are having to stagger their start times. The 150m, two-lane track sits on top of AHMM's office block, which is now full to bursting with more than 1,500 people billeted across its 16 storeys. With so many wanting to use it, it can't be long before the track gets its own Strava segment.
Street smart
One of my hacks recently went to see the UK president of Cemex. A newcomer to London, Michel André – who hails from Lyon – decided recently to take a look around the city. Not for him an open-top bus tour – instead the man in charge of 3,000 UK staff booked himself in for an Unseen Tour – tours of the less well-known bits of the capital led by homeless people. He went to one at Brick Lane in the East End. "It's super interesting," he marvels. "The interaction was great and the guys know the neighbourhoods inside out." Très bien, we say.
Top man
I hear that Bovis Homes chief executive Greg Fitzgerald was initially reluctant to take the top job at the then struggling housebuilder out of deference to his former employer Galliford Try, which – you may remember – was weighing up whether to make a takeover bid earlier this year. Fitzgerald spent 33 years at his former employer, whose £1.2bn bid for the firm was eventually snubbed, paving the way for Fitzgerald to come out of retirement this year and move in. Bovis shareholders must be pleased Fitzgerald did take the job – its share price stood at 926.5p on the April day he started and earlier this month climbed to a new high in the Fitzgerald era of 1,215p.
Blossoming Brum
Once deemed a lifestyle desert, Birmingham is now blossoming like a Tokyo cherry orchard in spring. A recent survey by Knight Frank reveals Brum to be the top UK destination for businesses and young professionals, with jobs booming and development schemes designed to entice people to the city. As more young professionals pile into the place it can only be a matter of time before it has its very own version of London's trendy Shoreditch, complete with craft ale bars and shops selling bowls of cereal at £5 a pop.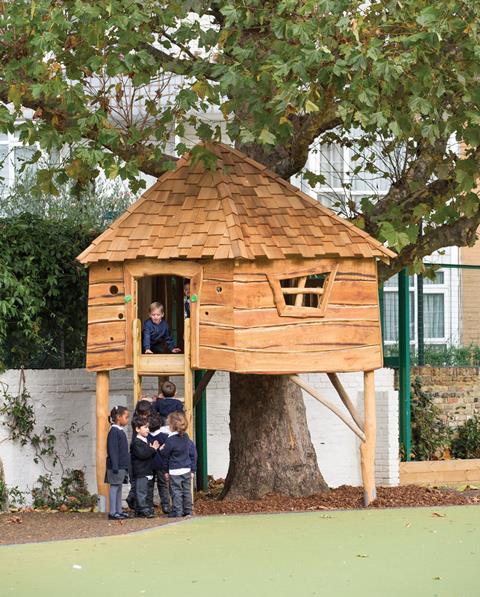 You want it, you got it
The Great Court at the British Museum, the new Reichstag in Berlin, the Russia Tower in Moscow – just three of the prestigious schemes designed by Foster + Partners. So, what next for the starchitect? Well, how about a treehouse for a primary school in west London? Backed by the charity founded by rock star, local resident and one-time Chelsea FC season ticket holder Bryan Adams, Fosters designed a revamp for Ashburnham Community school's playground, including a snazzy treehouse. David Summerfield, the architect's head of studio, said it aimed to create "an urban oasis made from different natural and sustainable materials that provided an engaging space". I just think it looks rather groovy.
Send any juicy industry gossip to hansom@ubm.com