While Armitage Shanks celebrates a proud anniversary and Wetherspoons opens a super-boozer, Battersea Power Station watches paint dry (in exactly the right colour) and there's conflict in the London Resort area 
Flushy celebrations
I'm delighted for bathroom fixture manufacturer Armitage Shanks, which this year celebrates its 200th anniversary. Now owned by private equity firm Sun Capital Partners, it began life in Armitage, Staffordshire – and to be honest I didn't realise it had been going since 1817. A cursory stroll through the interweb by one of my editorial colleagues revealed that the company's name, and variants thereof, have proved to be a bit of a draw in popular culture circles. My personal favourite is the Armitage Shanks Championship Bowl, the object in question being a fictional prize in the "Mornington Crescent" game on BBC Radio 4's I'm Sorry I Haven't a Clue comedy quiz show. Toilet humour indeed.
Setting the bar high
JD Wetherspoon, the pub chain best known for its cheap meal deals and even cheaper beer, has a worthy reputation for transforming old buildings into well-appointed boozers. And it appears to have outdone itself with the Royal Victoria Pavilion in Ramsgate. The grade II-listed building, first opened in 1904, has lain empty since 2008, but a £4.5m refurbishment by Wetherspoon has created a 20,000ft2 watering hole, said to be the UK's largest, beating the group's own Velvet Coaster in Blackpool, which previously held that record. Trebles all round at Wetherspoon Towers, I'd wager.
Hovering around
Redrow released its full year results this week and it reminded me of something I heard a few weeks back about the firm's site at Colindale Gardens in north London. Best known as the former base of the Metropolitan Police's training college at Hendon, the place is being turned into 3,000 homes and being given a new name. It even has its own helicopter pad, but I understand that's for the personal use of the housebuilder's chairman Steve Morgan whenever he fancies dropping in – or should that be flying in? – to see how things are going. It could get a fair amount of use, as the scheme is not due to finish until the late 2020s. Still, in the meantime, it will set an upmarket tone for would-be residents.
A whiter shade of pale
Four gleaming white totems have appeared on the south London riverfront. No, not more sparkling residential towers; these are the restored and repainted chimneys of Battersea Power Station. After close consultation with Historic England, the brick stacks have received "a basecoat and final coat in the exact colour the originals were painted in". The project may have had its challenges, as Building has noted recently, but I'm sure the Malaysian investors were only too happy to spend as much money as it took to ensure the new-look chimneys were visually identical to their predecessors. Nobody fancied magnolia, then?
Not so entertaining
Commanding fine views of the Port of Tilbury to the east, and the QEII Bridge the other way, the Swanscombe peninsula in Kent could scarcely be a more scenic choice of location for the proposed London Resort entertainment park. Less scenic are the future prospects of dozens of local businesses based near there that are up in arms, claiming that they face being evicted. They will be "extinguished", a spokesman for the businesses told Building, before warning darkly that "many further obstacles" stand in the way of the attraction's planned opening date of 2023. Never mind, there's always Dreamland in Margate for people to visit.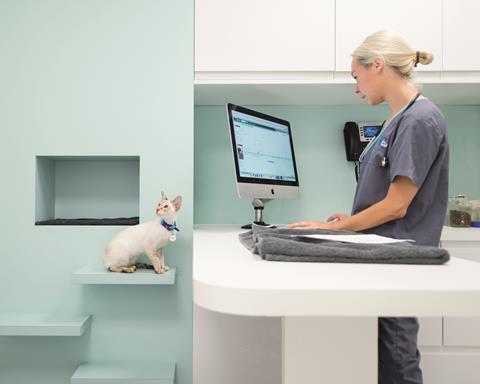 A purrfect place
Mrs Hansom frequently frets about the health of our pet cat Theodolite, or Theo as she calls him. Thankfully I have found a new feline vet to take him to, in Bermondsey, just down the road from Building Towers and designed by Dalston architect Gort Scott. According to director
Fiona Scott, "the design works hard to ensure cats and their owners are at ease, including bespoke elements such as integrated 'cubbies' for cats to climb into". Theo was so much at ease he stayed still for once in a photo (almost). He could work on his pose, though; he looks like he's seen a ghost – which, considering I was born in 1803, he should frankly be used to by now…
Send any juicy industry gossip to hansom@ubm.com