This week, we're at Ascot with Balfour and drop in at Coal Drops Yard, Mitie moves to the Shard, Foster is deluged by CVs, and Dulux paints the mood of the nation; plus, we take our leave of the English language
Conspicuous by his absence
One of my hacks recently trooped off to Coal Drops Yard, the snazzy shopping emporium designed by Thomas Heatherwick going up in King's Cross, to see how things were progressing. Plenty of people were there from the builder Bam and the developer Argent but, alas, there was no sign of the curly haired maestro himself. Perhaps he's still smarting from the recent collapse of his Garden Bridge project and the outpouring of joy it provoked among the many.
Gizza job, Norm
The musings of Norman Foster are always worth a read, and this year was no different. For an 82-year-old, his views on Brexit are remarkably non-reactionary and he frets that London might be suffering in the 15 months since the EU vote. If London suffers, we all do, he seems to be saying in the practice's annual accounts. But what really caught my eye was the news that his firm, Foster + Partners, was deluged with 24,000 – TWENTY-FOUR THOUSAND! – CVs last year. It gave jobs to just 224 of those hopefuls, so the chances of getting a job at the firm last year were roughly one in 100.
A day at the races
Balfour Beatty, it seems, must have a turned a corner. It's begun taking hacks to the races again and one of mine went along to Ascot recently with orders to stick to orange juice and not blow the Building Christmas fund on the grey horse in the last race. I'm told Leo Quinn, chief executive of the UK's biggest contractor, is a fan of the horses, but he wasn't there – which is a shame since the former non-exec director of betting firm Betfair might have been able to help my scribe pick a winner or two.
Painting speaks a thousand words
Our environment often dictates our mood, and nowhere else is this more apparent than the colour we paint our surroundings. Dulux's Colour of the Year for 2018 is Heart Wood, described as "a warm neutral, with a hint of heather". One of my colleagues was moved to remark: "It's not an unpleasant beige." But his seal of approval stopped there, with Dulux rather spoiling the mood when it rattled on about the colour trends for next year. In short, the mood is unpredictability and uncertainty. "A world with more expectations and more demands on our time; a world of division." And I thought it was just the colour of paint.
Mitie good news
Mitie, the City's favourite cleaning firm, is moving 250 staff into the Shard next year. The group, which is the subject of two probes by financial watchdogs, will be billeted on the 12th floor, and the blurb from the people at the Shard says the move "will drive cost-efficiency" at Mitie. A good thing, too, given that, in its most recent annual results, it racked up a £43m operating loss.
Words, words, words
I've been around for a while and regard myself as being on familiar terms with a lot of words in the English language. However, one took me completely by surprise this week: "collaboratorium". One of my hacks was writing a story about the UK Collaboratorium for Research on Infrastructure and Cities – UKCRIC as it is more snappily referred to – and I found myself wondering whether there was actually any such thing as a collaboratorium. I was appalled to discover that it is indeed a thing, specifically "a form of online collaborative argument mapping". Needless to say, it appears to be a word that emanates from our chums across the Atlantic, where, in my view, scant regard is ever paid to the language of Shakespeare, Dickens and Frederick Forsyth.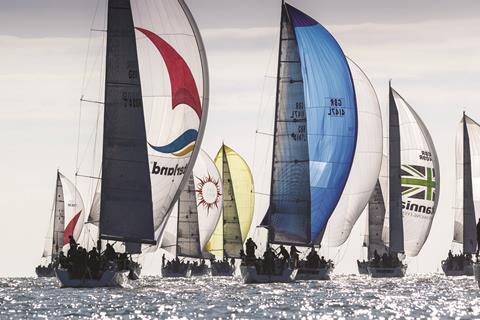 Little Britain at 30
This year's Little Britain Challenge Cup celebrated its 30th birthday last weekend when more than 500 property and construction professionals descended on the Isle of Wight. This year's event saw some big changes with a new venue at Shepards Wharf, Cowes, while events included pontoon parties hosted by Asite and Chicks with Bricks, a Q&A with round-the-world sailor Tracy Edwards and gourmet street food.
This year's winners included CP Electronics – overall Little Britain Challenge Cup winner – and class winners: Salter Demolition, Lendlease, Knightbuild and Redreef + Steadberry. The event has raised more than £1.25m for charity in the three decades since it began.
Send any juicy industry gossip to hansom@ubm.com