One university evacuates students, while another is stripping off cladding panels from student digs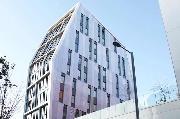 Universities across the UK are reviewing the cladding on halls of residence, as concerns about fire safety following the Grenfell tragedy spread beyond the housing sector.
One university has evacuated students from their accommodation and another has begun removing cladding panels after they were found to contain combustible material.
Nottingham Trent University (NTU) moved students out of Byron House, a hall of residence managed by its private sector partner UPP, after a review showed three of the development's seven blocks were clad in a Reynobond ACM (aluminium composite material) product. Further tests showed the cladding panels were Reynobond PE, which has a polyethylene core.
"As a precautionary measure, UPP and NTU re-accommodated a small number of students in these blocks into alternative rooms," a statement from NTU said.
"NTU and UPP are liaising with the fire service as a matter of urgency to agree an appropriate course of action.
"Byron House opened in 2013 and fire safety was a major element in the building's design. This includes an extremely high-standard fire detection and alarm system, (known as L1) with alarms and sensors in every room, regular alarm testing and fire drills – so all residents know how and where to evacuate the building – and a 24-7 concierge system."
Byron House contains 911 bedrooms in blocks ranging from four to nine storeys high, and was built by Vinci. The contractor has been contacted for comment by Building.
In Edinburgh, Napier University has begun removing cladding from the Bainfield Halls of residence, after a review revealed that a quarter of it was Reynobond PE.
The Scottish Fire and Rescue Service inspected the building on Tuesday (27 June) and told Napier it was safe to continue to use the building. Students have not been evacuated.
A university statement said: "Work has already begun to remove and replace the cladding as a precautionary measure. The insulation materials behind the Bainfield cladding panels are non-combustible, the panel hangings are all made of metal, the wall cavities are properly fire-stopped and the buildings are fitted with sprinklers.
"There are also a range of other fire safety measures in place, including each block having its own exit route, a modern fire alarm and smoke detection system that is tested weekly, and 24-hour on-site security."
The cladding on the hall was installed by Lakesmere, working as a subcontractor to Pochin Construction.
A spokeswoman for Lakesmere said: "We are currently working with Pochin to answer any questions relating to the review of fire safety at Bainfield. The project complied with building regulations and was signed off by building control."
Pochin has also been contacted for comment.
Bainfield is owned by Standard Life Investments and leased to the University.
In Newcastle, student accommodation currently under construction has also been found to use Reynobond PE. The Shield, a BAM Properties development where BAM Construction is contractor, is a seven storey tower due to open this autumn.
A spokesman for BAM said the contractor had carried out extensive fire safety tests on the building, which uses four different types of cladding, of which 30% is Reynobond PE.
"We have had experts in from architects Xsite, who specified the Reynobond PE panels, fire design consultants, building surveyors and building control – and they have all advised us that there is nothing wrong with the building's fire safety design," he said.
The spokesman said BAM had no plans to change its current construction programme at The Shield.
"Nobody is asking us to remove the Reynobond panels, though the situation is very fluid after what happened at Grenfell, and obviously if new guidance came in demanding it, we would change the cladding," he said.