After the immediate shock of the Grenfell Tower fire, local authorities and housing associations are trying to work out what it all means for the social housing sector. Joey Gardiner reports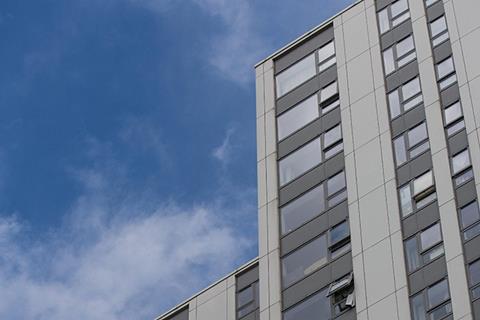 Three weeks after the horrific fire that took the lives of at least 80 people in Grenfell Tower in Kensington, it's still hard to focus beyond the traumatic stories of the victims and their relatives: a sister and two brothers thought dead after refusing to leave their elderly parents, a 12-year-old girl alone in her flat as her mother worked nights cleaning offices, now, too, tragically missing.
However, those working in councils and housing associations are nevertheless being forced to look beyond the immediate tragedy and attempt to assess what Grenfell might mean for the housing services they provide. While it is easy for concerns over these implications to pale in comparison to the needs of those bereaved and dispossessed by the tragedy, taken on their own these implications could potentially amount an enormous challenge to the affordable housing sector. Derek Joseph, a long-time housing consultant and chair of housing association A2Dominion, says: "There is no subject more talked about at the moment than how we are going to deal with this."
The scale of the concern in the sector is matched only by the level of uncertainty over what is being faced: while the government said at the time of going to press 181 towers have since failed beefed-up safety tests, three weeks after the fire it is still not possible to even say with certainty whether the tower's cladding system met current building regulations, let alone how regulations will be revised, how many towers will need remedial works, or what will need to be done to them.
Figures provided to Building by cost consultant Gleeds indicate it is likely the cost of necessary works could top £1bn - and could be far higher still. And while prime minister Theresa May has said her government will "support" local authorities with any associated costs, there are significant fears over what exactly central government will pay for, where resources will be diverted from, and what it means for other priorities such as maintaining existing homes. On top of all this, in a country in the middle of a housing crisis, how it will affect those in need of new affordable homes?
Immediate impact
The most immediate impact on housing associations and council housing departments has been on senior staff capacity, as these organisations have attempted to get a grip on the extent of the problem - if any - in their individual organisations, and what immediate action needs to be taken.
James Tickell, founder of social housing consultant Campbell Tickell, says: "The first impact has been on the top team - the immediate diversion of capacity and effort at the chief exec, MD and director level to deal with this. At the same time, call centres have experienced very high call volumes."
Some of these estates have fallen to a quality that is just not acceptable. Cutting back on other planned maintenance cannot happen

Debbie Larner, CIH
Immediate actions have ranged from simply getting cladding tested and delivered to the Department for Communities and Local Government (DCLG) for analysis, to rolling out additional fire safety measures, communicating to reassure concerned residents, and, in Camden council's case, evacuating 4,000 tenants from the Chalcots Estate. Other councils have made rapid decisions to push ahead with major works to address issues, such as Wandsworth, which has already decided to roll out sprinkler systems to 100 tower blocks housing 6,400 people, and Lewisham, which has decided to remove cladding from two towers.
But these quick-fire decisions are potentially just the tip of the iceberg as landlords start to look at what action to take in the long term. A2Dominion's Joseph, who says his association is lucky not to have any towers within its stock, nevertheless says: "It's so impossible to work out at this stage. Everyone's looking at it and thinking about what to do, how much it will cost, and who's going to pay for it."
One of the first effects of this is likely to be that landlords review any ongoing major maintenance or refurbishment work, to make sure they're not causing the same problems suffered by Grenfell. Debbie Larner, head of practice at the Chartered Institute of Housing (CIH), says: "People will have to pause to re-look at their plans and at the materials they're using."
In fact, it appears to be already happening. One example of this is Westminster council, which a spokesperson confirmed had put the recladding of Tollgate House, part of a £50m regeneration scheme, on hold while it "talked to communities about the way forward". Joseph says: "I understand lots of landlords have already put all their refurbishment projects on hold. Everyone's doing that."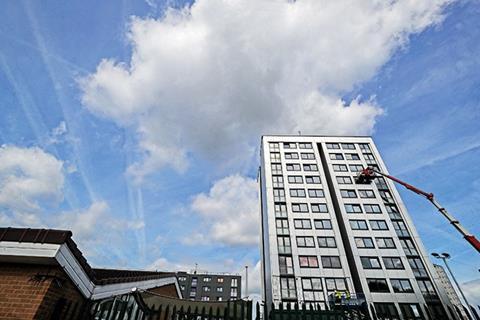 Cost of billions
One of the great unknowns is the extent of retrofitting that will be required once the lessons of Grenfell have been learnt. However, given that cladding on 181 tower blocks has already failed DCLG's new inspection regime, and with anything up to 600 blocks seen as likely to be vulnerable to the same problem, it is not unreasonable to expect that a major programme of retrofitting non-combustible cladding will be required.
In addition, it is possible that the retrofitting of sprinkler systems could be required, with Wendy Otway, a spokesperson for the British Automatic Fire Sprinkler Association (BAFSA), saying the body's members had already seen a "big" increase in demand.
Everyone's looking at it and thinking about what to do, how much it will cost, and who's going to pay for it

Derek Joseph, A2Dominion
Mark Stevens, director at cost consultant Gleeds, has been modelling the cost of these works on a typical 23-storey social housing tower block (see retrofit costs, page 25). He says that once temporary works, cladding removal, contractors' margin and prelims are taken into account, a single tower of that scale could cost
in the region of £20m to retrofit. And while BAFSA estimates the £1m of that price allocated to spending on the sprinkler system could be done more cheaply, costs could rise further if the market is flooded with requests. While DCLG has provided no information on the height and size of towers where cladding has failed, Stevens says "it is fair to say that the work could cost over a £1bn if the full scope is needed in each building".
However, if £20m a tower does turn out to be typical, and if all 600 towers fail the tests (at the time of writing the failure rate of the towers was 100%), then the cost could top £10bn. Moreover, if the retrofitting of sprinkler systems is made mandatory, then there would be nearly 4,000 buildings to upgrade, at a cost of up to £2,500 per flat (according to BAFSA).
In addition, Stevens at Gleeds says these costs could escalate if contractors were asked to complete works particularly quickly, with elements such as cladding already having large lead-in times. A2Dominion's Joseph says: "You have to wonder what a big programme like this would do to construction costs - to labour and material costs."
Demolition or refurbishment
It may be, as communities secretary Sajid Javid has admitted, that given the age and condition of tower blocks, it would make more sense to knock them down and redevelop from scratch.
Joseph says: "Everyone's looking at the contingencies, from blocks remaining in situ, to complete demolition. It makes it such a difficult thing to even guess at." But for landlords, even these enormous costs potentially pale next to the burden of re-accommodating tenants forced out of their homes while work is undertaken. The CIH's Larner says: "The big issue is whether you have to move residents out of the tower blocks affected by this. There is a massive shortfall of homes, and there simply isn't excess capacity to soak this up. It's a huge cost and landlords will have to be compensated for it."
This doesn't just apply to demolition and rebuild. Usually refurbishment would require tenants to leave the building too. While Gleeds' Stevens says it may be possible to phase re-cladding works so that only a proportion of tenants need move out of a block at any one time, it would pose logistical problems and "you could easily double the cost if you want to do that phasing."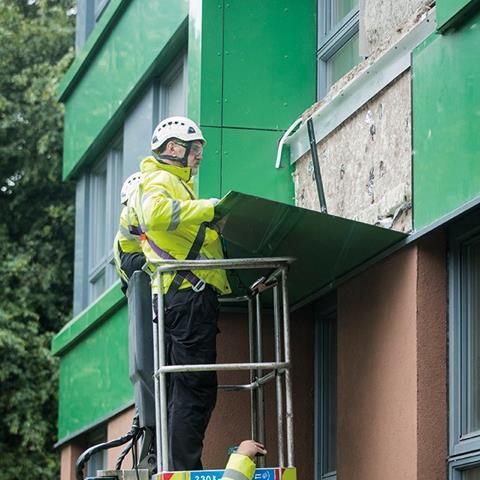 Housing associations have already offered new build stock to landlords affected by the Grenfell Tower fire, but if a major programme is required it's probable this provision will be overwhelmed. Joseph estimates the number of tenants needing new accommodation could even take up an entire year's worth of production from the housing association sector, in the worst-case scenario. So, if decanting of tenants is needed, landlords may have to buy properties on the open market, spending £300,000-400,000 per household in London. Camden council has already admitted to a cost of "several million pounds" for its evacuation of the Chalcots Estate, allowing residents to spend up to £200 per night in hotels.
The concern for the sector is that while the government has given broad assurances that it will pick up the tab, it has not allocated a set amount of money to the programme, and not been clear about what exactly it will fund.
Tickell, from Campbell Tickell, says: "When the government says 'don't worry', then everyone knows they're in trouble." The CIH's Larner adds: "The government will have to pay for this - local authorities just don't have the money. But the government hasn't been clear about how it's going to be funded."
Development hit
While funding remains uncertain, fears are growing about how this will impact on other services. Larner says councils must not be allowed to pay for Grenfell-related works by diverting cash away from planned maintenance elsewhere.
"Some of these estates have fallen to a quality that is just not acceptable," she says. "Cutting back on other planned maintenance cannot happen." There is even a concern that these costs could hit capital reserved for new development - a double blow for those on housing waiting lists, who may already be seeing any available homes taken by those being decanted from failing tower blocks.
When the government says 'don't worry', then everyone knows they're in trouble

James Tickell, Campbell Tickell
Theo Blackwell, Camden's cabinet member for finance, said last week: "To meet what we and other local authorities have to do will require extra government investment if other housing programmes, such as housebuilding and regeneration of old estates, are not to be set back or stopped."
A2Dominion's Joseph says the impact might not just be down to cash being diverted away from development. If associations are being forced to re-house displaced tenants in old-style "social housing" (very low) rents in new homes, they will be receiving far less income from them than they will have budgeted for - with new tenancies generally let at the much higher "affordable rent" level.
This means those homes will be worth less, which will restrict their ability to borrow: "There are real questions as to whether any money from government will be enough to counter this effect, what it will do for associations' business planning, and what it does for their ability to cross-subsidise development," he says.
For the moment, much of this is in the realm of speculation - and all the while tower block residents live with their worries, and other residents face uncertain waits for expected maintenance works to go ahead. Larner says it is vital, therefore, that the lessons of Grenfell are learnt quickly, so work is not delayed. "The enquiry can't wait four or five years like it did with Lakanal House. We can't delay," she says.
Retrofit costs
Figures drawn up by Mark Stevens, a director at Gleeds, show the potential cost of retrofitting housing tower blocks. The figures relate to an example block of 23 storeys consisting of around 160 individual flats and include re-cladding and installing a sprinkler system. Stevens said a project would first require around £1m of temporary works, mainly comprising scaffolding or other means of access. Removing existing cladding, including the necessary cost of taking off balconies, would cost between £150-250 per m2 - adding up to £1.5m-2.5m for the whole block. Replacing this with new lightweight non-combustible cladding would cost in the region of £850 per m2, or around £8.5m in total. Putting balconies back on would be another £1.6m. Stevens estimates the cost of installing a sprinkler system, providing a space at ground level can be found for a large water tank, at £1m. However, the costs of removing and then replacing ceilings and then redecorating to allow sprinkler installation could be as high as another £1.5m. All of which adds up to just short of £16m. This is without considering whether fire doors need replacing, or adding further fire protection measures to cores. Stevens adds: "Then you have to employ someone to do it, and allow for contractor cost, profit margin, people and prelims. You could easily reach £20m overall."