Dar may still be an unfamiliar name to many, but the Beirut-based owner of Currie & Brown, Elementa and Perkins+Will has ambitions to grow its operations rapidly in the UK, Brexit notwithstanding. Dave Rogers talks to its UK managing director, Andrew Loudon. Photography by Tom Campbell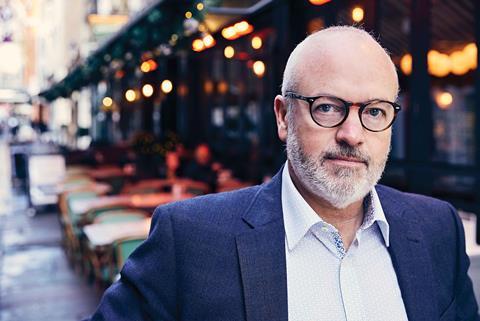 Andrew Loudon has a plan. The former chief operating officer of Currie & Brown admits that when people mention the firm he now runs, Dar, the name is more likely to prompt head-scratching than recognition.
"When I joined I'd be out speaking to people and I reckon one in 20 had heard of us. When I go out now, it's better. It's about one in five." With a growth strategy set to begin, Loudon is hoping for less head-scratching.
A QS by background, Loudon moved across to Dar in 2015, three years after Middle East-based Dar Group bought the venerable Currie & Brown.
By the time he left Currie & Brown, Loudon had spent 25 years at the firm after first starting at the business back in 1989 following two years at a local authority in his native Scotland.
"Business will get through [Brexit] and business will keep going. London's not Brexit-proof but it's very resilient. to us, london and the uk are still very important"
As well as Currie & Brown, Dar Group – which is based in Beirut and has been up and running since 1956 – also owns architect Perkins+Will and engineering firm Elementa, which is part of Integral Group. And of course it also owns Dar, the multidisciplinary consultancy operating across the Middle East, Africa and Asia, which is where Loudon comes in. The firm specialises in the front-end disciplines of a project such as planning and urban design, masterplanning and economics.
Dar employs 120 people at its office in Marylebone and has a current annual income of about £15m. "We're certainly looking to double, treble that in two or three years' time," Loudon says. "We'd be getting up towards 500 people over the next three years." He adds: "In the UK it should be bigger than it is."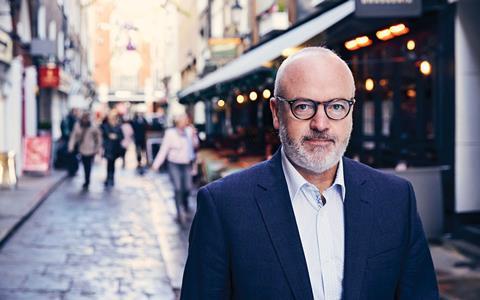 British ambitions
Loudon is speaking a few days after the government was hit by the resignations of Brexit secretary Dominic Raab and work and pensions secretary Esther McVey on the same morning, in the middle of last month. The prime minister was forced into an early evening statement, with some even speculating that she would resign with her Brexit plan in tatters.
While Brexit dominates Westminster politics, Loudon is keeping on keeping on. He admits leaving the EU will create "some issues – the car and logistics industries will have a lot, the way their instantaneous supply chains work". But he says: "We don't see it as a massive issue for our business. We're still investing in the UK."
Since then dire forecasts have been made, with the Bank of England saying last week that a disorderly, no-deal Brexit would induce a bigger slump than the last financial crash a decade ago.
Loudon is less alarmist. "A hard Brexit will have an impact on the currency: sterling will weaken quite a bit. But you carry on as normal. You have to. Businesses are planning all the time – business will be very resilient through all this.
A native of the Lanarkshire market town of Strathaven, he doesn't think Brexit makes Scottish independence inevitable. "There will be a push to do a second [independence] referendum, but there are some big challenges on the economy up there. It's not as robust as it could be."
Dar Group's various UK companies employ about 1,500 people here, with by the far biggest number the 1,200 on the books of Currie & Brown. Loudon hazards that about one-third of the 1,500 are from the EU. "They see the UK very much as their home. I don't think we'll see a massive issue in terms of our headcount from Europe."
He says Brexit doesn't dominate conversations with his bosses in Lebanon. "They don't raise it a great deal," he adds. "They ask for opinions from different people but it's not going to affect their investment decisions."
Fairway to heaven
Andrew Loudon is a big fan of golf and has a handicap of six – which means he's pretty good. "Not too bad," he concedes. "I'm persevering, for an old guy." He turned 54 two weeks ago and has been playing the sport since he was 10.
Loudon is based in London during the week, while his wife and two grown-up children remain in Scotland, at Strathaven, South Lanarkshire, which is home to "a lovely old course, tree lined". He says it's a long way from the links courses – those ones by the sea and the venues for the Open Championship every summer – where the wind and rain can make hacking around 18 holes a thoroughly miserable experience.
But it's another course by the sea that he rates as his favourite – Pebble Beach in California, with its views of the Pacific Ocean. His favourite golfer is the late Seve Ballesteros, who did much to popularise the sport in the 1970s and 1980s. Loudon admits golf can be seen as elitist still – although less so in Scotland, where public courses are more accessible – but adds: "It's good for youngsters. It teaches them discipline, rules; they meet different people; they travel to different places."
New UK office
Loudon points to the money Dar is ploughing into a new office the firm is building at 150 Holborn, a stone's throw away from the headquarters of supermarket firm Sainsbury's. John F Hunt has recently begun demolition work at the site, with main contractor McLaren set to start on the £80m construction contract by the middle of next year. Designed by Perkins+Will, the eight-storey building will be ready for occupation by the middle of 2021.
As well as Dar staff, it will also be the new London base for Currie & Brown, now billeted at nearby 40 High Holborn, and Whitechapel-based Perkins+Will, along with Elementa, which is at present located in the City.
The new office will be a base for the wider group to spearhead a push into the UK. Loudon says: "A lot of people don't realise the different companies in our group." Dar's full name is Dar Al-Handasah and its English meaning is "house of brands", he explains.
"We see the UK as being more important increasingly, going forward. The new office will bring [all the brands] in one place and make sure we collaborate and work a lot closer together as a group."
As part of this, the group produced its first ever annual report earlier this year and under its Dar 2020 plan, introduced a couple of years ago, the firm wants to focus on infrastructure, architecture, project management and energy. Its job sheet includes a huge causeway in Kuwait stretching to nearly 50km and a hyperloop system planned for Abu Dhabi. It is also helping to build a new administrative centre in Egypt's capital, Cairo.
In the UK, Loudon's office is working on HS2 as well as some business parks in Southampton. But he concedes: "Absolutely we are small, but we want to grow." He says there are opportunities around a slew of infrastructure and regeneration schemes such as the Northern Powerhouse, the Midlands Engine and the redevelopment of Old Oak Common in west London.
He says the UK has a great reputation internationally in engineering and design, adding: "What we're looking forward to doing is working closely with UK government to help the export agenda of UK plc." He says the UK's export focus has traditionally been on Europe but, with an eye on Brexit, adds: "There will be a big push for government to export and we want to be involved in that."
Dar background: A global family business
Founded in 1956 by Dr Kamal Shair, the Dar Group is now chaired by his son Talal. The group has global revenues of $2.5bn and 18,600 employees working out of nearly 300 offices in 59 countries.
The firm sits at number seven in a list of the 225 biggest engineering firms around the world, in league tables published this summer by engineering bible Engineering News-Record. It is bettered only by Jacobs, Aecom, SNC-Lavalin – Atkins' new owner – WSP, Arcadis and Fluor, and is bigger than Mott MacDonald and Arup. Dar is also a top five firm in the Middle East, the US and Africa – and is yet is largely unknown in the UK.
Consulting, not contracting
What Dar will not be doing, however, is following the example of some of its peers and getting involved in contracting. Aecom has a contracting arm which in the UK is behind the HOK-designed, 67-storey Spire tower in London's Docklands, which was put under review by its Chinese developer Greenland earlier this year.
"For us, as Dar, we're going to stick to being a design consulting firm. The contracting market in the UK has been very challenging for a lot of people. It comes back to procurement, the advice they get and how they procure."
By the time demolition contractors have finished clearing the site for Dar's new London headquarters, the UK should have left the EU. How is not yet quite clear, and Theresa May's plan faces a House of Commons vote on Tuesday that many believe she cannot win.
But Loudon is staying calm while tensions rise. "At the end of the day, like everything else, it's a negotiation. Business will get through it and business will keep going," he says. "London's not Brexit-proof but it's very resilient. To us, London and the UK are still very important."