Haydn Mursell, Kier's third chief executive in five years, is keen to maintain the firm's traditional financial disciplines, while using his background in corporate mergers and acquisitions to push for future growth. Will he manage it?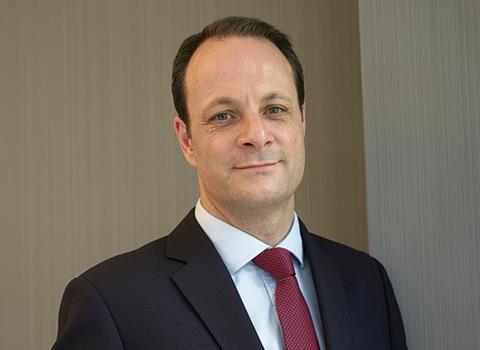 In many regards contractor Kier has always been - not to put too fine a point on it - a teensy bit dull. A reliable and competent business, which shuns the biggest and highest-profile jobs, with a conservative attitude to risk, profit-taking and chasing work. And this was no accident - it was exactly what its management and investors wanted to mark it out in the high-risk world of contracting. The result? Predictable. Conservative. Steady but not stellar returns. No surprises. OK, yes - dull.
But the last five years have forced both investors and rivals to re-evaluate much of what they thought they knew about it. Getting involved in a £221m corporate scrap to steal May Gurney from under Costain's nose in 2013 was about the least Kier-like thing the 87-year-old firm could have done. After years of targeting steady organic growth, the acquisition shot Kier into the corporate top tier, allowing it to boast a £3bn turnover, bigger than all other UK contractors bar Balfour Beatty and Laing O'Rourke. In fact in terms of UK work alone, there are now none bigger than the Hertfordshire-based builder. And with another transformative acquisition - this time of re-shaped roads engineer Mouchel - potentially on the cards, it's enough to have Kier's traditional investors reaching for the smelling salts. No surprise then that shares in Kier fell when merger talks were confirmed in December last year.
We will be focused on businesses that don't deliver the right returns on capital - we will dispose of them. It's a very very strict discipline
The sense of change is underlined by the fact former finance director and ex-Balfour and Lend Lease executive Haydn Mursell took the top job in July last year, making it three chief executives within five years: not cause for alarm certainly, but a quick turnover by Kier standards nevertheless.
Mursell says he's happy to have seen Kier's profile raised a little bit in the business pages, but claims that behind the headlines it's exactly the same old conservative and dependable beast it's always been, now with a reach that's greater than ever, and a breadth of services wider than at any point in its history. Nevertheless, questions remain about Kier's strategy, its seeming flip-flopping over its housing business, as well as the reasons behind previous chief executive Paul Sheffield's surprise departure last year. But with 44-year old former tennis coach Mursell taking charge, the first qualified accountant to hold the top job since Colin Busby in the early 2000s, the big question is whether he intends to ultimately return the firm to its conservative comfort zone, or instead use his background in corporate mergers and acquisitions to really go for growth.
Conservative
Under the stewardship of John Dodds, who as one of the founders of the modern Kier business led the firm from 2003 to 2010, Kier was a byword among City watchers for reliable, steady performance. Its accounting practices were notoriously conservative - unlike some of its peers, it didn't book profit on schemes until it had actually made it - and largely eschewed the glamour of big high-profile schemes for the day-to-day churn of regional contracting. Even today, with turnover in excess of £3bn, the average size of a Kier job remains between £5m and £10m. Mursell maintains there has to date been no change from this approach: "Is it still the same conservative, prudent company? Yes. The way we take profit and expense our bid costs - all that is as prudent as it's ever been. The central overlay of risk management, particularly at the pre-construction phase, is much more rigorous here [than Kier's peers]. We spend twice the quantity of risk management overhead at that front end. We will not enter a contract or bid for work until we have the set criteria related to the contract. Which means sometimes we will walk away from work, or not bid for work."
In this context, it is not surprising that Kier is one of very few major listed contractors working in the UK not to have suffered a profit warning during the recession. Mursell is confident, too, that there is nothing of that sort in the pipeline, given that work won in 2012-13 - the period which seems to have caused many of its rivals so many problems - is a pretty distant memory for a firm in which the small size of jobs means construction projects rarely take longer than 12 months to complete. Even where the jobs are larger, such as in Kier's growing £400m infrastructure business, Mursell says contract forms are generally either target cost or cost plus, meaning the risk of financial problems is much diminished.
But while Mursell claims the traditional financial disciplines of the firm will be maintained, there's no doubt he's personally ambitious for growth at the firm. In the same month he assumed his role, Mursell published Vision 2020, a document purporting to offer a five-year strategy for the firm which, among other things, committed him to deliver double-digit percentage profit growth in every remaining year of the decade. It also laid out a vision for the business split across four principle service areas: construction, property development, housing and support services, with the latter hugely enhanced by the acquisition of May Gurney.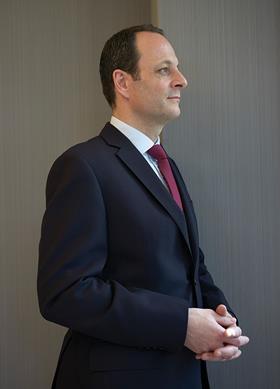 In person Mursell is relaxed, personable and chatty - even if a lifetime spent working with the City and in corporate roles means he is prone to speak in financial jargon.
Mursell, who joined Kier as FD in 2010 from Balfour Beatty, where he had been deputy group FD, took over as chief executive on 1 July last year, after Sheffield's unexpected departure after just four years in charge. The explanation given at the time was that Sheffield was keen to look for opportunities to work in other industries and that the time was right to move on. However, since the departure there have been persistent rumours that there was more to it. The circumstances are particularly relevant because one of the suggestions is that Mursell, while FD, tempted Kier board members with an alternative, and more aggressive, vision of growth at the business than trained engineer Sheffield was committed to, potentially including an uptick on corporate and merger and acquisition activity. So, did Mursell outline an alternative view which ultimately precipitated Sheffield's departure? Mursell dismisses the idea. "Paul […] made a time commitment in his mind of how long he wanted to be CEO of a public company. Five years was the number he gave the board on day one."
However, Mursell's explanation may not totally quash the rumours, as he also stresses his experience at executing acquisitions. "We're different beasts. My background is one that is more corporate finance, Paul was a civil engineer […] My attributes are that I'm able to understand exactly how the City think about us and how they value us […] that's my comfort zone. [In terms of] M&A activity - yes, I'm competent, I've done it right through my career. I like to think if you do M&A properly, then it is very, very beneficial to a group."
Acquisition trail
It is these discussions that Mursell is engaged in right now, with Mouchel, a 6,000-strong business that will likely cost Kier in excess of £400m if - and it is still if - a deal goes ahead. So far Kier has only confirmed that talks are ongoing, but has given little insight into why Mouchel, which was put up for sale in July last year, is a target. Mursell says talks are progressing well, but warns no acquisition would be made without "comprehensive due diligence" that could ensure a minimum 15% return on the investment.
But why is he so interested? The answer is in £616m-turnover Mouchel's strong position on highways support services for the UK's trunk roads, something that has suddenly become a sweet-spot since Treasury chief secretary Danny Alexander announced in 2013 a commitment to the "biggest road-building programme since the 1970s". Mouchel does about 30% of the Highways Agency's (HA) upgrade work, and while Kier has a large business servicing local roads, it has yet to get a place on to the HA's lucrative regional frameworks. Buying Mouchel, he says, would get them a place much quicker than the firm could manage on its own, speeding the services growth envisaged under Vision 2020. "Looking at them, fundamentally accelerates our organic journey. Rather than [leaving Kier] waiting and having to play in the game until 2020, we can get there a lot more quickly."
Even if the Mouchel deal doesn't come off - and the City rumours are that exclusive talks don't have much longer to run - Kier is looking to undertake further corporate activity. It is planning to sell its fleet and logistics business, part of which came over with the May Gurney acquisition, and Mursell says the firm will be ruthless in ridding the group of businesses that don't perform.
Meanwhile construction remains by far the largest segment of Kier's business by turnover. But while it makes up more than half of revenue, it generates only a third of the operating profit, and Mursell refers to it at one point as Kier's "heritage". There is absolutely no sense the construction business will be sold, but the firm's annual reports put Kier's smaller and more profitable property and housing businesses front and centre, and Mursell looks to be envisaging quite a different shape to the business in five years' time.
All this activity will from now be overseen by the group's former services division MD, Claudio Veritiero, who was this month promoted to the board with responsibility for corporate activity. Mursell says: "Our cost of capital for the group is getting on for 10%. We will be quite focused on businesses that don't deliver the right returns on capital, that don't strategically fit with the group, and we will dispose of them. It's a very, very strict discipline. Claudio['s role] is all about the fact we're going to have parts of the group we're going to have to grow faster, or exit if they're not going to work."
Veritiero's promotion was part of a wider board reshuffle which adds to the feeling of change at the firm. Out from the firm went Paul Sheffield's right hand man, 59-year old former COO Steve Bowcott, and on to the board came Nigel Brook, who will look after construction and infrastructure, and Nigel Turner, who will report on development and property services. Mursell will not be drawn on Bowcott's departure beyond saying that he was trying to assemble the right team to deliver the Vision 2020 for the next five years. Nevertheless some analysts have been confused by the implied reporting lines in the reshuffle, and led to wonder whether Mursell has actually already dropped the four-pronged Vision 2020 he laid out last summer. Mursell denies this completely - the apparent discrepancy is simply about how the business is presented, he says.
Moreover, Mursell is confident the business will this year perform well enough to report the double-digit profit growth increase he promised the City in Vision 2020. This is despite the fact he envisages a dip in orders around the election, which he says is being compensated for at the moment by a slight ramp up in orders in advance of purdah. For him the most worrying thing about the election is the possibility it will lead to an extended period of uncertainty if no majority government can be formed. "The more there is change or a hung parliament or uncertainty, the longer the hiatus. Corporately I'd like there to be as little change as possible." While he says there are potential benefits for Kier of pledged policies of both major Westminster parties, he is more worried about a hiatus with Labour-led administration. "If it changes to a more red-coloured mix of parties, you wonder what they'll unpick from the past and what will be new."
Overall there's no doubt it's an exciting time to be at Kier. The question for its investors and customers is whether it turns out to be a little too exciting for comfort.
Mursell's 2020 Vision
Property This business combines Kier's public private partnership portfolio with commercial property development, turning over about £100m annually. The strategy targets 15% return on capital employed for this business.
Residential Split off from the property business in July last year, this division includes Kier's 700-homes a year legacy private housing business alongside its 900-homes a year public sector-focused affordable housing development business. Together with the property business, this division turned over nearly £300m in 2014, and will have its own line in the accounts from next year.
Construction This business, which includes a £200m international business, turned over £1.6bn in 2014 and produced a pre-tax profit of £31m, a margin of 2%. Vision 2020 sees the business produce a pre-tax margin of 2.5%.
Services This division, which includes roads and local authority FM work, made a pre-tax profit of just £23m on turnover of £1.1bn in 2014. Its target under Vision 2020 is to return a 5% pre-tax margin, something that would be aided by the acquisition of Mouchel.