As the man in charge of overseeing Chinese developer Dalian Wanda's £3bn UK development plans, Peter Amato is already becoming the man contractors and consultants most want to know. But you'll have to learn to keep up …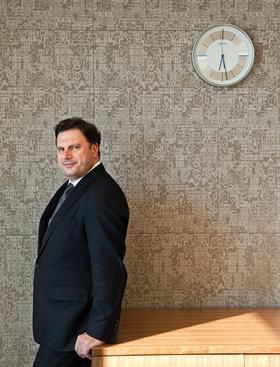 China's largest private sector developer, Dalian Wanda, has entered the UK property market, and it means business. After 25 years spent building mega schemes in China, Dalian Wanda has chosen London for its first foray into international property development. The firm is in the process of procuring a contractor for its first scheme, the £400m double tower at One Nine Elms in Vauxhall, and it's not going to stop there. It has plans to develop several major schemes in the UK, with a projected development spend of around £3bn over five years.
The man overseeing Dalian Wanda's UK development push is Peter Amato. Amato is one of the most respected people in London development, with stints at Qatari Diar, Candy & Candy, GVA Second London Wall, Jones Lang LaSalle and Davis Langdon on his CV. He joined last month and says he was attracted to the role by the scale of Dalian Wanda's "formidable" ambitions in the UK. Dalian Wanda, which will trade as Wanda One (UK) Ltd in the UK, is on the hunt for further development sites in London and across the UK and is being linked to a bid to develop the huge Brent Cross scheme in north London. The main criterion for any UK scheme? "It has to be big," Amato says.
Amato is softly-spoken, assertive and self-assured. In a meeting room at the central London offices of his firm's PR consultant, he shares Dalian Wanda's ambitious plans for One Nine Elms and for the UK market, and explains why UK construction will need to learn from the Chinese.
One Nine Elms
Dalian Wanda bought the 439-home One Nine Elms scheme - two KPF-designed towers at 45 and 60 storeys - from developer Green Property in June last year. It has since ditched the office element in favour of expanding the five-star hotel - which it will operate under Dalian Wanda's luxury hotel brand - to 187 rooms. Wanda will aim for practical completion at the end of 2018.
We are the first of the nine elms towers out of the blocks. we have to create a sense of place as best we can
It is a testament to Dalian Wanda's confidence in the London market that both towers will be constructed at once, Amato asserts. It will also introduce the first five-star hotel to Vauxhall, an area that until the development boom began was best-known for a clogged gyratory road and unloved warehouses. "[Our managers] are visionary, they've seen the potential," he says.
Dalian Wanda has begun the procurement process for a main contractor, having invited 10 contractors to pre-qualify - though he won't say who. Amato says this should be whittled down to three by the beginning of August. Building understands Chinese contractors are not among those currently being considered for this project, but Amato says Wanda, like other developers, is considering looking abroad for contracting and subcontracting expertise as the market gets hotter.
Given the recovering market, Wanda is taking a two-stage tender approach for the main contractor role: "We want to work in conjunction with a main contractor to help with design development and to flush out as many hitches as possible. We are very keen to establish a very collaborative approach and to get their early input in the design process." Amato says the developer may even adopt a two-stage approach for subcontractor trades in the future in response to a shortage of high-quality trades.
The emerging tower cluster in Vauxhall is right at the heart of a public row about the design quality of over 200 tower developments planned across the capital. Amato says the developer takes its responsibility to design quality seriously: "KPF has a track record and quality is a key criterion for us." He cagily declines to comment on the quality of other towers in the cluster - not a ringing endorsement - but says Wanda at least is working closely with Lambeth council to make its scheme as good as it can be by integrating with the public realm below and a proposed linear park linking the cluster to Battersea Power Station. "We are the first [of the towers] out of the blocks. We have to create a sense of place as best we can." He also reiterates the developer's commitment to the mayor of London that it will market the flats in the UK at the same time as it markets them overseas to help combat the phenomenon of overseas buyers buying up London property as investments and not actually moving in.
Pipeline
Amato's involvement at Dalian Wanda shows the firm means business. He helped Qatari Diar buy and work up plans for key London sites, including the Shell Centre and Chelsea Barracks, and looks set to do a similar job for his Chinese employers. He says: "[Dalian Wanda] approached me. In initial discussions it became clear they had an impressive delivery programme. Other overseas developers may talk a good game in terms of delivery, but Dalian Wanda has the goods."
So what are these plans? The firm is on the hunt and Amato reckons it'll be on site on a second London scheme "within 12 months". He declines to comment on whether, as Building reports this week, Dalian Wanda is considering a bid to buy the 7,500-home Brent Cross development opportunity in north London, which would be a major addition to the pipeline. But Amato says it is likely to be developing "several schemes" and within five years, Wanda's development team will grow from its existing 10 to 15-20. "The initial concentration has been London, but that doesn't exclude the rest of the UK going forward." Apart from looking for "big" schemes, it will look to "play to our strengths, which is mixed-use developments". The developer followed up on its London acquisition with buys in the US, Spain and Russia.
One of the difficulties Amato faces is the expectations the firm's Chinese management will have about construction times, which are far longer in the UK than China. UK processes and regulations require a longer development period, though Amato says he will look to take on approaches from his Chinese colleagues to improve efficiency. However, he cautions that "we have got to be realistic" and his team must "make sure we robustly communicate" back to China what's possible. "We are communicating with our Beijing colleagues. There's a learning process both from our Beijing colleagues and ourselves in terms of both adapting to our two ways of working. It's trying to fuse those two cultures into a new process. It's part of our growing pain at the moment."
Those wanting to familiarise themselves with the Chinese approach now should get to know Amato.