The Lakehouse executive chairman on how the contractor has managed to defy the downturn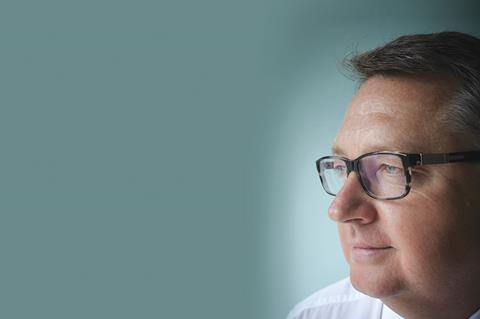 Journalists are often accused of revelling in bad news. A bad news story, the theory goes, is sexier than a good one. But in reality, it's not the negative that demands attention - it's the unusual or surprising. And so, in construction, where firms are going to the wall with alarming frequency, the success story has become the one that cries out to be heard.
Such is the case with Lakehouse, a medium-sized contractor, ranked a lowly 93rd on Building's Top 150 Contractors and Housebuilders (see pages 30-37). Twenty-five years old this year, Lakehouse's last set of accounts show a company in the ascendant, with revenue growth of 44% to £154m and operating profit up 87% to £4.9m between 2011 and 2012. Back in 2008, it was turning over about £50m and making £1m profit. The company, which focuses on work in London and the South-east, has also won a clutch of awards, not least Building's own Small Contractor of the Year in 2010 and this year.
The man who can take greatest credit for Lakehouse's recent performance is Stuart Black, its executive chairman. Black's timing was unfortunate, to say the least, buying an equity stake in what he saw as a successful business with major growth potential at the back end of 2007. Unsurprisingly, the subsequent crash prompted a thorough review of Lakehouse's strategy. Perhaps more unusually, the result of that review led to a concentration on investment and growth, rather than retrenchment.
"When I got involved, Lakehouse had already done incredibly well. It had got to about £50m in revenue and £1m in profit," says Black. "But if you're turning over £50m and making very low margins, particularly when we didn't know how deep and long the recession was going to be, you're in a fairly dangerous position. So we set out a strategy to take advantage of the opportunities as we saw them, but also to come out the other side a more substantial and sustainable business."
So, how has Lakehouse managed to achieve such strong growth when so many other medium-sized contractors have contracted or bitten the dust? And how, given the current state of local government finances - on which much of its work depends - can that growth be maintained?
Safety first
An affable Glaswegian, Black laughs easily and is a genuinely warm character. He and other members of Lakehouse's senior management team take their responsibilities to their staff extremely seriously, regarding themselves, Black says, as the custodians of other people's livelihoods.
But given that the headcount at Lakehouse has grown from 150 to 650 over the last five years, the weight of that responsibility has increased dramatically. It is therefore no surprise that, over the course of the interview, Black repeatedly uses the word "sustainability", not just in the environmental context but also in terms of the sort of business he is interested in growing.
This is reflected in the strategy that he helped craft back in 2008, which was based on moving towards long-term, reliable income streams and growing the business organically. "The majority of the business in 2008 was construction related and single project related," he says. "We had to be continually bidding for work. So the strategy we set out wasn't rocket science. We wanted to move the company away from being transactional and towards more framework contracts - we wanted to develop a long-term order book."
We haven't done anything outrageous. Our debt levels are very conservative
Black and his team also realised that they were best off sticking to sectors and geographies that they knew well, rather than bidding for every contract that came up. Consequently, Lakehouse concentrated largely on winning housing and education work with local authorities in London and the South-east.
The strategy proved successful, with a major win from Camden council four years ago to provide regeneration and maintenance services for 55,000 homes in the borough for 10 years, bringing in around £30m a year. In turn, that deal helped Lakehouse to win a similar contract with Hackney. "It allowed us to bring more people and skills into the business and gave us critical mass," says Black. "We're not a national organisation, but the credentials those two contracts give us give clients the confidence that we can handle anything that they throw at us."
Lakehouse's bidding strategy was aided to a great extent by its shareholders' decision to reinvest all profit back into the business every year for the last five years. This allowed Black to invest in and grow the company's finance, HR and, most importantly, bid teams. "We put in the infrastructure around the business that wasn't there previously and that is now capable of sustaining a bigger business," he says. "We've invested hugely in the bid engine and we've probably got the best bidding record of any company I've been in. We win one contract for every 2.5 we bid for."
Time to buy
Having established a long-term order book and strengthened Lakehouse's bid team, last year Black was able to move onto the final part of the strategy he laid out back in 2008. "The plan was always to grow the business organically and then when we were a stable business to supplement that with acquisitions," he says. "Those acquisitions were always going to be in services [companies] and were always, hopefully, going to be companies that had higher margins than we had so that overall we achieved higher margins."
Lakehouse is now in the process of purchasing its third business - Black says that the deal should be done and dusted by the end of the summer - having bought out gas maintenance firm K&T Heating Services 18 months ago and Allied Protection Fire Protection Services last November. Both those acquisitions were intended to broaden the social housing services Lakehouse could offer clients. While he can't go into details, Black says that the firm he is in the process of buying is "geographically complementary" and has a "strong sustainability business".
The acquisitions were funded through a mixture of cash and bank debt, which now stands at around £8m. "We haven't done anything outrageous," says Black. "Our debt levels are very conservative. It was nothing before the acquisitions and it all comes from buying the companies."
The acquisitions strategy, says Black, has worked well so far - the businesses have started winning additional work from each other's clients - and that has encouraged the company to continue scouting for opportunities. He adds that Lakehouse has a further two acquisitions in the pipeline, both aimed at strengthening the company's environmental sustainability capability.
So, what can we expect when Lakehouse's results for the current year are published? "We'll have done a bit better than last year," says Black. "Again we'll grow - we'll just about hit the £200m-turnover mark - and next year's business plan is looking very interesting."
If that proves to be the case, Lakehouse will have grown its revenues by a further 30% a year and quadrupled the size of the business since Black's arrival.
However, it is clear that Black will avoid getting too carried away with his acquisitions and is wary of taking on too much debt.
"We're an acquisitive business, but we'll only do it if it's sustainable," he says. "No one's going to get racy or raise too much debt to fund acquisitions that aren't sustainable. I have a duty to the 650 people we employ now and I take that duty very seriously. If we don't have a sustainable business, then their roles are in danger."