Leading the Liberal Democrats may sound like the worst job going in politics following the party's drubbing in last year's election, but an out-of-sorts Labour sees Tim Farron adopt the role at a time of clear opportunity. Mark Leftly meets the often controversial figure to talk flooding, housing and Star Wars …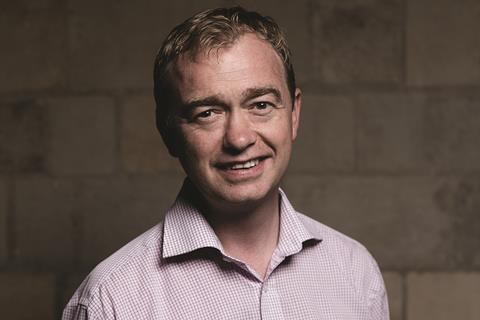 For all his folksy charm, Liberal Democrat leader Tim Farron doesn't half court controversy.
In March, weeks before the Lib Dems were trounced at the general election, Paddy Ashdown slapped him down, saying "at the moment, judgement is not his strong suit", alluding to the Westmorland and Lonsdale MP's almost transparently veiled ambitions to lead the party following a disastrous interview with the Mail on Sunday.
That profile also skewered Farron for his evangelical Christianity - he converted at 18 after finding a Bible while on a holiday with his mum in Singapore. Farron said God could identify every hair on his head. His religious certainty was to hurt him again when he succeeded Nick Clegg as leader only four months later, with political commentators questioning whether the conservatism of parts of the Bible could really chime with running a liberal party.
Tellingly, a copy of Richard Dawkins' The God Delusion sits on Farron's shelf in his parliamentary office overlooking the Palace of Westminster; it appears to be a case of trying to understand the enemy.
More recently, Farron voted for airstrikes against so-called Islamic State in Syria. Activists, who so admired the late former leader Charles Kennedy for his stand against the Iraq War in 2003, were shocked and some senior figures threatened to quit.
The construction industry may be tempted to wonder why it should care about any of this. After all, the Liberal Democrats were virtually destroyed as a parliamentary force last May, punished for their role in the coalition. But with the Labour Party seemingly in disarray under Jeremy Corbyn, the new Liberal Democrat leader does have an opportunity to quickly gain support from disaffected soft-left Labour supporters by providing effective scrutiny to the Conservative government. His party also remains a force in local politics - albeit much reduced from its heyday under Kennedy - where its council leaders implement many of the housing, planning and development policies most likely to affect construction firms on the ground.
Most importantly, it is Farron's focus on what could be viewed as the more mundane policy matters of infrastructure and housing that marks him out from his predecessors: Ashdown and Kennedy were more focused on foreign affairs, while the smooth Clegg was a natural creature of government. Therefore it makes sense for the construction industry to take note of his ideas. If the Lib Dems do steadily regain influence and a measure of power under Farron's leadership, the industry can expect a hearty swathe of new infrastructure and housing contracts at the local government level at least.
Rebuilding
In popular perception Farron, a fell running enthusiast who doesn't look his 45 years, has moved to rebuild his reputation through a well-received guest appearance on Have I Got News for You, and a subsequent slot on Russell Howard's Good News. On his office table lies a copy of GQ - Harrison Ford, promoting the latest Star Wars flick, is on the cover. Farron has the unenviable task of following Han Solo as one of the magazine's interviewees next month.
Asked about that interview, Farron makes arguably his most outrageous claim yet: he thinks The Empire Strikes Back, seen by many as the jewel in the crown of the Star Wars saga, is mere "filler" and "contrived". It's difficult to see how such an allegation is anything other than a vote loser, though he admits to looking forward to seeing the return of Mark Hamill, aka Luke Skywalker, in the new film.
But Farron doesn't see his route to salvaging a party that went from 57 seats and coalition government in 2010 to eight MPs and virtual obscurity through either foreign policy - like some of his predecessors - or popular culture. Instead, he has taken personal charge of housing as one of his seven priority policies. The "green economy" and developing rural communities are two of the others, while a commitment to infrastructure underpins most of his ideas.
Indeed, Farron used his first conference speech as leader in Bournemouth to reiterate his commitment to building 300,000 homes a year. This is a much higher target than Labour and the Conservatives, even though successive governments have struggled to reach even two-thirds that number.
"It is essential, not just achievable," smiles Farron, pointing out the need to build 10 "garden cities" to tackle the UK's housing crisis.
The modern peak was around 200,000 under Tony Blair, but Farron argues the Lib Dems could do better by lifting local government borrowing caps so councils can build homes themselves.
He wants to go further. "The government wasn't building a single one of those [200,000], local authorities weren't building a single one of those, housing associations were building very few of those, so the government can be the builder, that developer of last resort," he says. "And you'd be a commercial outfit. If we're confident the demand is there, why don't we just jolly well build it?"
Evidence of the continuing influence of the Lib Dems on policy is that this idea was essentially piloted under the coalition - branded "direct commissioning" - by then Lib Dem Treasury secretary Danny Alexander in 2014. This month it was extended by the current government with fanfare from David Cameron - though still to nowhere near the extent Farron would like.
Farron appreciates the overall target would take time while developing the skilled workforce required, but still thinks the target could be hit within a decade.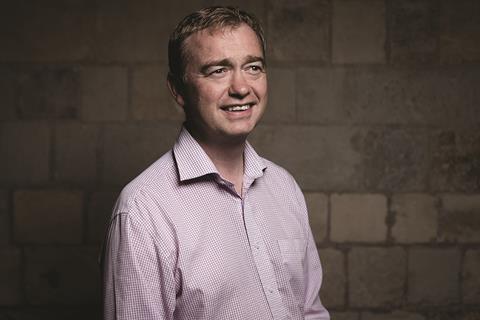 Devolution
Crucially, he says, hitting it will depend upon local authorities taking the risky decisions to build as they are devolved more power under central government plans to give city regions greater control over their own budgets and projects.
"It's about having local authorities that are brave enough to take the decisions to build, just like we did in South Lakeland [council]. So, In South Lakeland, which is a council we've got majority control of, despite Conservative opposition we chose to build affordable homes for our communities. We built about a thousand and we need to build about another thousand. It's always the easy political decision to not build and that's the problem. Weak-willed politicians is the major reason we've got a housing crisis in this country."
Importantly, though, he thinks building more homes can only be done if the government "shifts demand" from London to the rest of the country.
This means better infrastructure, in particular a more clearly defined High Speed 3, which many fear will be a series of rail upgrades rather than a new link between some of the great northern cities.
Farron wants this to run from Liverpool to Hull, stopping no more than three times so that entrepreneurs and executives can speed between commercial centres quickly.
"You basically need something that connects east-west as quickly as north-south - that's fundamental," he argues.
HS3 has been the most-trumpeted concept in chancellor George Osborne's vision of a "northern powerhouse" that will rebalance the British economy away from its dependence on London and the South-east.
Even within government, though, there has been some confusion as to how this powerhouse will develop, with much focus on transport and devolution, but little other substance.
Osborne wants other departments - such as health and culture, media and sport - to come up with ideas about how they could contribute to this dream, but sources close to the chancellor admit they have struggled to convince them how they could help.
Farron brands the concept "a figment of George Osborne's imagination".
"I think for the northern powerhouse to mean anything - I'm reluctant to even use the phrase because I think it's a complete confidence trick, it doesn't exist - what we actually do need is infrastructure investment that allows the parts of Britain that are not London and the South-east to be able to be intrinsically economically strong, and not just reliant on their relationship with London.
Tidal, hydro, marine and solar are heavily British industries and we are about to kill them because of what this government is doing
"If you don't invest in making the north of England - and not just the north of England but others, the South-west is critical as well – intrinsically economically important, then you won't need to build houses because there
won't be the demand for people to live there, they'll all be down here [in London] instead and that's not sustainable."
For example, Farron thinks improving broadband speeds in rural areas will be vital, because then people who "want to live in a nice part of the world will still be able to make a living".
This means speeds of 50-100 megabits per second across the country, when even parts of London currently languish on 2MB per second.
Infrastructure focus
With climate change a classic Liberal Democrat priority, it is no surprise Farron also has low-carbon energy infrastructure on his mind. Farron is concerned that a Conservative majority government that is already privatising the Green Investment Bank and has cut solar industry subsidies could repeat what he sees as the mistakes of the Margaret Thatcher years.
"We killed off the wind industry in Britain in the 1980s by not investing in it and regulating it heavily to the extent that all the manufacturing went to Germany, Denmark, and elsewhere," he says. "Tidal, hydro, marine and solar are heavily British industries and we are about to kill them because of what this government is doing [by not financially supporting them]."
He sees a particular opportunity in the production of energy from tidal lagoons, starting with the proposed £1bn project in Swansea Bay that could provide enough electricity for 155,000 homes for 120 years. The firm behind that project says other possible locations for this new form of renewable include Cumbria, in which his Westmorland and Lonsdale constituency is located, and Bridgwater Bay in Somerset. This technology, which is considered unique and could be exported around the world, has been delayed partly because of negotiations over the steep subsidy needed for that first project in Swansea.
Farron's emphasis on infrastructure investment has been strengthened through recent experiences in Cumbria, where devastating floods resulting from Storm Desmond caused the local economy around £500m of damage, according to estimates from accountant PricewaterhouseCoopers.
The Lib Dem leader was briefly in trouble when a dry stone wall, that had remarkably withstood a barrage for about an hour, gave way just as Farron was driving past with three of his four children and a friend. They just about got away in time. "We need to look at flood prevention, which does mean investment in schemes, engineered schemes. It means working with and not against farmers in the uplands to have catchment management programmes," he explains.
His economic argument, he reckons, is flawless, because the flood barriers cost so little to build relative to the price of rebuilding housing estates that have been overwhelmed by deluges. For example, the construction of one flood defence on the River Kent in Cumbria that has not yet been approved has an estimated price-tag of only £3m-£4m; another built about eight years ago protected 250 houses during the recent storms "at goodness knows what" cost benefit ratio.
All of this focus will intrigue many in the industry who are despondent of the infighting in modern politics.
While Farron might not be a swashbuckling rogue in the Han Solo mould, his focus on policy specifics means he is a new hope for the Lib Dems.