Architect's turnover up 46% to £38.5m while director see pay rise five-fold to £3.2m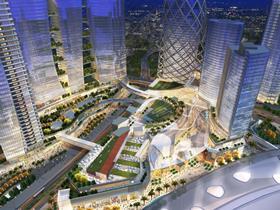 Architect Benoy nearly doubled its pre-tax profit in 2011 while its sole director saw his pay rise five-fold to £3.2m.
In accounts filed at Companies House the firm reported profit of £6.3m in the year to 31 December 2011, up from £3.4m in the previous year. It also reported turnover of £38.5m in 2011 up 46% from £26.4m in 2010.
Graham Cartledge, director at Benoy said the firm benefited from a portfolio of work spread across a diverse sectors, countries and clients. "The business will continue to invest in overseas opportunities," he said.
The accounts show that in 2011 £33m of the firm's revenue came from outside of EU and the UK. The UK contributed only 9% of the total revenue of £38.4m turning over £3.4m. Revenue from the rest of the EU was £2m.
"The principle risks facing Benoy include foreign exchange risk, and the risks associated with trading in diverse overseas markets, including political and economic stability, along with the abilities to continue to secure new projects and the delivery of existing projects via existing and new resources," he added.
Cartledge, the sole director, enjoyed massive hike in remuneration from £605,000 in 2010 to £3.2m in 2011.
The practice also took on 96 professional staff during the year as the number of professional staff grew from 294 to 390. Salary costs, including social security and pension costs, also rose from £16.4m to £23.6m.