Zero Carbon Hub calls for clarity on how carbon offsetting funds will be aggregated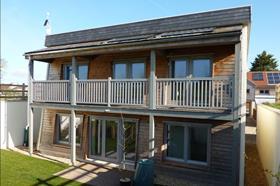 Lack of clear carbon pricing policy are preventing timely investment and preparation for delivery of Zero Carbon homes claims a new report by the Zero Carbon Hub.
From 2016 all new build homes will have to be built to the Zero Carbon standard. Allowable solutions is the name given to measures undertaken by developers to offset the carbon produced by their new build homes that they cannot abate onsite to ensure their developments meet the standard.
In the report, the Hub and industry representatives said that clarity is needed on how money paid by developers towards allowable solutions could be aggregated and used to leverage other finance to get the maximum from it.
Marco Marijewycz, strategic lead for Allowable Solutions at the Zero Carbon Hub and advocacy and stakeholder manager at energy company E.ON, said: "What is also emphatically clear is the desire for clarity now on the mechanisms for pricing carbon within any such framework. This clarity is essential so as to enable key market actors to strategically plan now ahead of 2016."
The report also said a lack of clarity on the price soon could risk the UK's future housing supply.
It said: "Concern was expressed by a number of developers that they are beginning to struggle to undertake long term strategic land acquisitions because they remain unclear about their maximum exposure to costs associated with delivery to zero carbon standards."