As the government's BIM deadline rolled into effect last month - making it compulsory for all public construction projects to be using Level 2 of the technology - an NBS survey showed that almost half of the sector is still yet to take it up. Our roundtable of industry experts explores how those still dragging their heels can be persuaded to get on board with BIM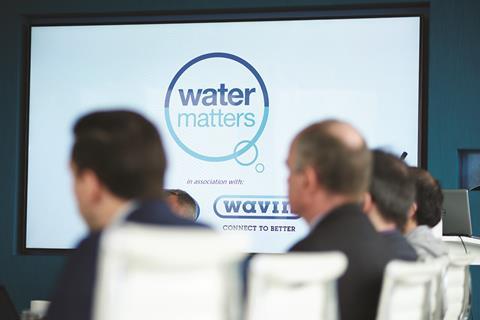 Last month saw an important landmark in the evolution of BIM.
Since 1 April, all public construction projects have been required to use BIM Level 2 by the government.
However, progress on the roll-out of Building Information Modelling (BIM) has been faltering. The annual industry state of BIM readiness survey, carried out by NBS and published in Building, shows that barely half of firms are using the 3D modelling technology. According to the survey, 54% of firms are using BIM, which is the same as two years ago. Meanwhile just one in 10 of the near 1,500 firms canvassed for the survey felt the industry was ready for the government's BIM Level 2 deadline.
How is BIM implementation progressing on the ground and how can recalcitrant elements of the supply chain be persuaded to embrace the approach?
To discuss these issues, Building pulled together leading architects, consultants and contractors for a roundtable debate sponsored by pipe manufacturer Wavin.
How much progress have firms achieved in implementing BIM?
NL Our BIM journey started in 2012, but then there were just pockets. The last two years there have been full BIM-enabled projects in our portfolio of works, a number of which are coming to an end this year.
PB-P We introduced BIM in 2011-12, when we had shrunk a bit due to the recession, which gave us the opportunity to train the whole office quite quickly. Then we were able to roll out BIM on all projects in 2012-13. Being an SME made that process relatively easy because we didn't have so many people.
As a company we have used it to make our processes much more efficient, contractors have used it to make their delivery more efficient and suppliers have used it to secure sales at the counter. They are good reasons for using BIM, but we are not getting clients to understand the benefit.
SW We implemented 3D technology on 75% of our projects last year. The real positive is that the government objective and pressure to move towards modelling means we have invested in software and training, which has delivered better communication and collaboration on projects. The ability to pull a model up in a meeting has helped us to move forward on projects: it's not just about 3D design.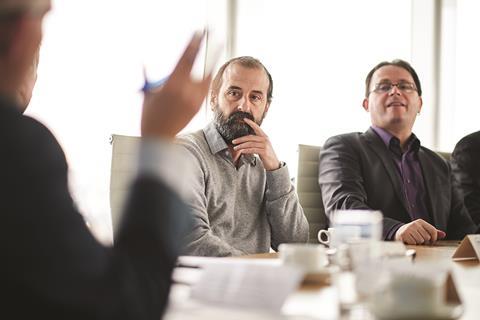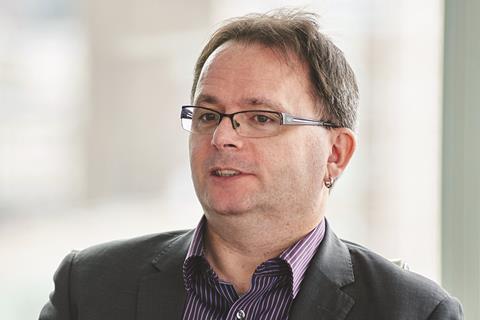 What benefits has BIM delivered?
SF The work we (the industry) were doing before was poor quality and poorly co-ordinated and because it was done in an inefficient way cost the client more.
SS We know from years of experience on site that problems and delays can have quite a significant impact on cost, which can have a snowball effect on projects.
SF [BIM] gives you transparency and certainty. You can't tell whether it will save you money but we can certainly tell you that we can measure progress and tell you whether the work has been done. We can give certainty that when somebody says they've done something they've actually done it because the data analysis is brutal. That certainty and transparency has made the supply chain nervous because there's nowhere to hide.
With existing buildings it's very useful to be able to do an asbestos study and show it visually. If you need to drill, you can show what the asbestos is attached to.
DMc One of our [BIM] projects is Manchester Central Library. The head of development there really wanted to change the process of delivering projects and saw the amount of waste that was created by doing things the old way. For every pound spent there was a very good return in terms of what the project delivered.
SS [BIM] will result in a more accurate design that is likely to save on simple things. All of these things happen on site but with better planning you can get away from it.
PB-P People don't fully understand where the benefits lie and therefore they ask for everything. Working with Middlesex university, we sat down with their team and discovered three core area of facilities management: day-to-day caretaking, the long-term strategic maintenance of buildings and the timetabling (of activities). We have subdivided our BIM roles into those three zones, which also happens to work extremely well from a design and construction point of view: you get the caretaking services, functions like changing lightbulbs. When it comes to the external envelope you might only need to look at the brickwork once every 20 years, you don't need that level of information. Asking an external envelope supplier to look at LOD 400 [levels of detail] when he will only have to look at it once every five years is a complete mismatch of investment.
What is the view on the NBS' findings on the progress achieved by the industry in implementing BIM?
DMc Maybe that report is showing that two years ago many people didn't really understand what Level 2 BIM was. Two years ago, a lot of people were ticking boxes. Perhaps now they have got more understanding of what Level 2 BIM requires or they perceive what needs to be delivered, which skews the results.
SF The industry was told about this in 2011 and five years later we're still not ready for it. They were hoping it was going to go away in the vain hope that when we get round to it, we would be able to charge for it as a value added service. We have arrived at 2016 and there is a section of the industry that's doing [BIM] and one that isn't. Who do you think is going to get the work? That's the cold hard financial truth.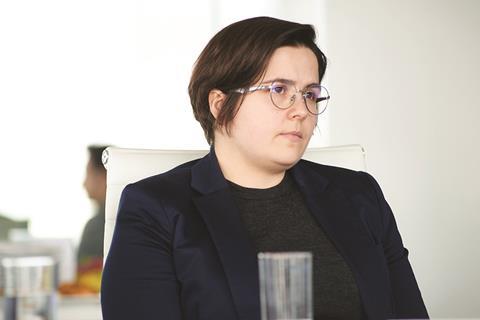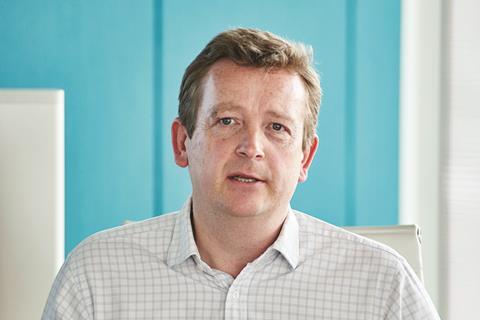 What are the costs of BIM?
PB-P It's about managing expectations. I get the feel that the industry is saying it's all or nothing. We have to get away from having to do everything in Level 2 BIM because it's impossible. We don't really need Level 2 BIM information and the client doesn't really need it.
It isn't important that the information is embedded in the 3D object at the earlier design stages. We have been seduced by these very attractive 3D objects full of information at the feasibility and planning stages, which is completely inappropriate because you haven't given proper consideration to the supplier or the specialist contractor at that stage.
At the moment, we are looking at the level of information that you put into the object. We are pushing quite hard to use generic objects [in BIM models] where we can.
SW There's massive demand in terms of information and complexity of models: it's genuinely impossible to deliver.
SF The whole design is often changed through procurement so why put in all of that manufacturer's information with all that data? You just want to count that there are 500 wash basins.
We shouldn't be expecting anybody to model timber studs because anything that can be cut up or sawn off with a hammer, why bother?
SW We are being asked for huge amount of information for every little component that goes into one of our facades or roofs. There's no getting away from that it costs money because it's not something we do as part of our normal design and construction process.
There is a cost to BIM. It might be that the premium contractor level is moving past that phase and that the benefits outweigh the cost of investment. But you don't have to go too far down the supply chain to find people who are just starting out on the journey.
It's another service that we offer and I will charge for it. If a client is asking for a LOD 400 and I'm not getting any benefit from it, why should I do it for free?
SF Now it's a government mandate, it's business as usual and you can't charge more for it. It's like back in the 1980s when people started charging more for CAD because it was new: nobody would dare to do that now.
PB-P Clients tend to shy away from significant cost in pre-tender designs so you don't tend to get the commitment from the client. What BIM is doing is pulling the appointment of the main contractor forward in the design process, leading to the point where you are getting contractors on board at the planning stage or even earlier.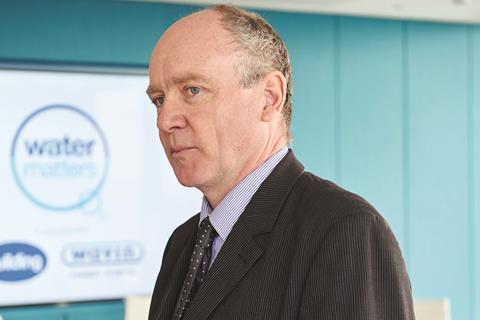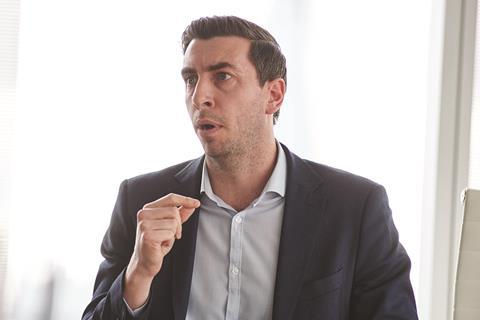 How ready is the industry to implement BIM at the subcontractor or trade counter level?
SW Our larger, more involved manufacturers can provide us with product information, which is great for incorporating into models, but our experience is that the subcontractors that work for us are not ready to provide product design services in a Level 2 environment so we are then having to take up that and do some work to ensure that we are providing Level 2-compliant information. While manufacturers can help us with product information we now need to educate our supply chain about BIM. Inevitably a majority of those companies can't do it at the moment.
SS We have a culture of contactors and subcontractors switching products at the trade counter: that's the way the industry works.
DMc [Roll out] needs to be a top down approach. It needs to filter down throughout the suppliers and other subcontractors as well.
We need to sit down with people, there's so much BIM babble. It's constant and people really struggle to understand what it is. We have so many clients that really don't understand.
NL We have client workshops and appoint somebody in the supply chain to talk about [BIM] in a practical way and demystify it. Some of the language and terminology goes way over the supply chains' heads, so it's a case of sitting down with them and explaining in simple terms what we require to be delivered from them.
IC We need to explain (to contractors) in a really plain language, not Level 2 BIM language, what we want as a client and then try and assess to see how they can deliver that because we want to keep that relationship with them. A face-to-face meeting does more than any document.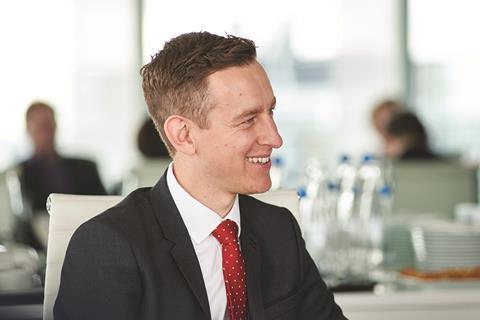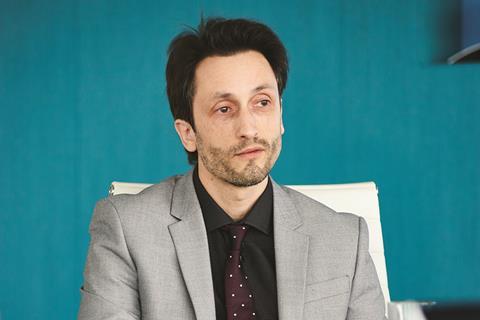 How can the barriers to the take-up of BIM be overcome?
DMc The supply chain is slightly fragmented and coming out of the recession they are still worried about costs. We've taken the supply chain for granted and they are trying to upskill but at the same time the work is coming in and they haven't got the time to do it and it tends to get pushed back. It's a cyclical problem which is compounding itself. It's up to the contractor to help the subcontractor to upskill and that needs to trickle down the supply chain.
It's also up to us as professional consultants to educate clients, to make people aware about what we are providing. It's going to be slow but we will get there. If you look at Crossrail, they have done remarkably well in setting up tunnelling facilities in Ilford to upskill their workforce in different ways.
NL Like we are doing with the main Tier 2 subcontractors, they need to educate the next layer down. The government groups may need to get more manufacturers engaged.
PB-P We are all making [inputting the data] sound like a massively onerous task, but it doesn't have to be if the client is asking the right questions. We tend, like all professionals - and architects are very guilty of this - to
make our jobs sound mysterious and complicated. It doesn't have to be if you demystify and simplify it. One of the good things about BIM is being forced to have conversations that expose us a bit.

Roundtable
Paul Beaty-Pownall, director, BPR Architects (PB-P)
Iria Carreira, BIM co-ordinator, Lendlease (IC)
Rui Pontes da Costa, BIM manager, Aukett Swanke
Jose Fandos, member of the CIBSE BIM Steering Group
Shaun Farrell, senior project manager, Turner and Townsend (SF)
Nicholas Leach, BIM manager- construction, Brookfield Multiplex (NL)
David McMahon, associate, Ryder Architecture (DMc)
Steven Skeldon, product manager, Wavin UK (SS)
Stuart Whiting, associate director, design and technical, Prater (SW)
Chair: David Blackman, features writer, Building

Webinar: thursday 26 May
Design in the digital age: How BIM will impact product innovation
Join industry experts to hear their take on how the increasingly widespread use of BIM will affect product design. Could manufacturers could be doing more to make their products BIM-friendly? Is complex data management seen as a barrier to trying new things? Or does a higher level of collaboration between all stakeholders stimulate opportunities for product development?
Sign up to attend the webinar free at www.building.co.uk/webinars