Government policy is still pushing social housing providers to develop and sell private homes in order to fund affordable ones. So what happens the next time that prices crash?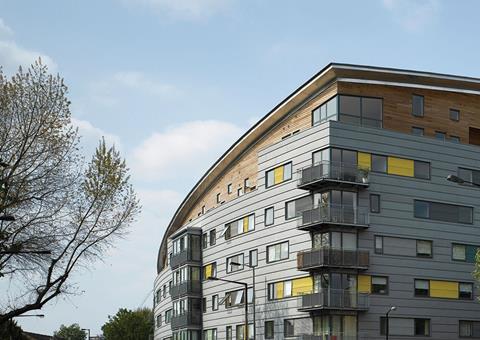 When the coalition ripped up the traditional way of funding affordable housing in 2010, more than halving government subsidy, it was seen by many as a necessary evil given the state of the UK's finances. To deliver the 150,000 homes expected by the government, it required housing associations - or registered providers (RP), in the current parlance - to raise an expected £15bn in private cash on the back of expected rents. However, many RPs said at the time that it could only be a one-off - because by 2015 they would have borrowed so much they would be unable to fund a further round.
But the publication before Christmas of the Greater London Authority's prospectus for bidders in its 2015-18 funding programme has made explicit what has been assumed for some time: that the next funding round will actually just see more of the same, at best.
Specifically, the GLA prospectus says the average government grant per home built is set to fall to just £30,000 in the capital, an amount that, to quote the development director of Hyde Housing Group David Gannicott, is "exceptionally low", and doesn't even cover the cost of construction, let alone land. The Homes and Communities Agency (HCA), which distributes grant for the rest of the country, is due to publish its prospectus shortly, but it is unlikely to present a much rosier picture.
The upshot is that, for a sector that already has borrowing facilities of £69bn against assets - mostly existing affordable homes - worth just £44bn, it will mean a further massive increase in its leverage. Hence many housing associations are setting out plans to become more and more commercial in order to cross-subsidise the construction of affordable homes with private sales. The HCA already says it expects the value of the combined sales of affordable home ownership properties and homes developed for outright sale to increase from about £1.2bn last year to £2.2bn in 2015.
Housing associations willing to strike this bargain in order to expand are having to change rapidly, altering the way the sector has traditionally operated. But some are concerned that increasing commercialisation of the sector could leave it very vulnerable to another downturn in the market. Furthermore, that dependence on private sale to cross-subsidise affordable housing production means the construction of those homes could be put at serious risk by a future price crash.
The changing model
In the current market it's easy to see why the government is betting on a new round of what it calls "Affordable Rent" housing. The dire predictions of housing associations from four years ago, of balance sheet capacity being totally used up, and a sector putting at risk its financial security, do not seem to have been borne out. Rather, high inflation rates (against which the rent rises that RPs are allowed to levy are pegged) and a rebounding housing market have left many generating strong surpluses, and with stronger than expected balance sheets.
Richard McCarthy, executive director for central government and housing at Capita, and a former director general in charge of housing at the communities department, says he is encouraged that the debate seems to have shifted away from one around balance sheet capacity to one around what rent levels are affordable for housing associations' tenants. "It's a much more informed debate," he says. "Balance sheets are on the whole in a strong position to see through another Affordable Rent programme."
It used to be that housing for sale was a by-product of the affordable housing we built. But more and more it's the main focus

David Gannicott, Hyde Housing Group
However, that's not to say the shift in funding, which saw rent levels raised for the new wave of Affordable Rent homes in order to generate the increased borrowing capacity, has not had any effect. The policy encourages development in areas where the market is stronger, focusing a greater proportion of development in the South-east, pushing up prices. It is also wholly dependent upon the sector's traditionally low-risk financial reputation: without the cheap » » borrowing enabled by the regulation of the sector, and its effective underwriting through the government's payment of housing benefit, the sums don't add up.
The group of the 15 largest associations operating in London say that grant has now fallen to such a level that, even with the ability to raise rents, they make an £80,000 loss on each home built, making construction unviable, and requiring cross-subsidy from homes for private sale.
Cross-subsidy has been a part of the funding of affordable housing for the last decade, and until a few years ago worked primarily through section 106, whereby private housebuilders were forced to devote a proportion of development sites to affordable homes. However, the government now refuses to pay grant on land passed over from private housebuilders through section 106, meaning these sites are often unviable even when passed to associations free of charge. Hence more and more RPs are looking to develop the private sale homes themselves as well.
Two examples are South-east based associations Orbit Group and Hyde Group. Orbit last year unveiled a plan to double its rate of development to 2,000 per year over the next six years, and up the proportion of private sale homes from one in 10 to about a third. Hyde Group currently builds about 1,000 homes per year, of which about 25% are for sale, but is looking to put its development programme on a "much more commercial footing", according to Gannicott.
Paul High, managing director at Orbit's housebuilding subsidiary Orbit Homes, says: "The reduced grant rates are the obvious driver. But the other driver is that we're bigger organisations, generating good surpluses - meaning we can do it now, where previously it would have been difficult."
Gannicott adds: "Housing for sale will feature much more prominently. The idea is to make a profit from it, and use these profits to meet the social purpose of the business."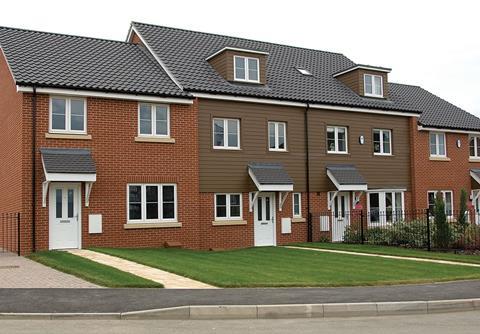 However, he admits the scale of this, on individual developments, means the focus of the organisation shifts: "It used to be that housing for sale, where it was required, was a by-product of the affordable housing we built. But more and more it's the main focus."
This means housing associations behaving more and more like housebuilders - or at least, as in Orbit's case, setting up subsidiary companies that are housebuilders. And it's not just private development risk that they're taking on. Former Housing Corporation chief executive Steve Douglas, now a partner at housing and regeneration consultant Altair, says they are following the housebuilder model by taking on construction risk as well. "More now have direct labour organisations and in-house contracting arms to do their work. It saves them 20% VAT and enables them to directly control the risk.
"The future may be that, like housebuilders, associations start to construction-manage their developments, commissioning the subcontractors to do the work. The question is whether they have the skills to do that."
Risky business
While in the current benign housing market concerns over this broad shift in focus are mainly from those worried about the impact of higher rents on struggling tenants, there is another cloud on the horizon. "The question is when is the [housing market] bubble going to burst," says Derek Joseph, former housing consultant and chair of 38,000-home RP A2 Dominion. "Particularly for any associations paying top dollar for sites that may not be developed for another two or three years."
After the credit crunch, when housing sales dropped by more than 50% in the space of a few months, the then regulator the Housing Corporation had to intervene to effectively prop up a number of housing associations that together had about £1bn of unsold (and unsellable) homes sitting on their books. It ending up spending £1.4bn to maintain supply, which included on a programme to convert the unsold homes into social rented houses.
But when medium-sized RP Cosmopolitan collapsed last year under after a poorly managed merger and development programme, the attitude of the regulator - now the HCA - seemed to have changed. Douglas says: "At an individual level there is a risk of over-development. Cosmopolitan, where there wasn't a bail-out, shows that the days of HCA stepping in with cash are gone."
Gannicott says: "Yes, there are risks for the sector, it's an absolutely valid question. We manage it with good governance to ensure we don't overstretch ourselves, and an eye to the credit ratings agencies like Moody's. The key is to have a balanced portfolio."
There are 577 unregistered subsidiaries of housing associations operating in the UK, of which nearly half are private development businesses. Douglas, however believes that while individual associations will always get in to trouble, the risks to the sector as a whole from over-development are minimal.
In the old days we were not dependent on the housing cycle. The danger is people will cut down on their affordable housing programme when a downturn happens

Brendan Sarsfield, Family Mosaic
This is not necessarily a view shared by the regulator. The HCA was sufficiently worried last year about the issues to propose a complete "ring fence" of all development activities from RPs' core rented housing assets. In April it said: "Commercial activities and new entrants bring new opportunities but inevitably new risks … the current regime … does not provide us with sufficient assurance that social housing assets are always protected."
By autumn last year it had rowed back on such drastic change, but is now asking associations to mitigate the risk by doing much more stringent scenario testing of their plans (see box). Jonathan Walters, deputy director of strategy and performance, says: "Most people recognise there is an issue here - because lenders are pretty keen that their investments are protected. They need to know what happens to their plans in a market downturn, when interest rates are going up and prices are falling."
But despite these concerns, the HCA doesn't collect precise data on the sector's exposure to private sales risk, because it doesn't officially have the remit to regulate those parts of their business.
One of the paradoxes of this funding approach is that the more successful it is in enabling development, thereby piling more risks on the sector, the more danger it runs of scaring off the cheap finance that makes the approach possible. Orbit's High says: "Poor performance by some could come back to bite other associations in terms of higher borrowing costs."
This risk has yet to be realised, with capital markets seemingly still comfortable financing housing associations at low rates despite credit agency downgrades in the wake of the collapse of Cosmopolitan. But there is a more worrying prospect: that an affordable housing programme reliant on cross-subsidy from private homes is much more vulnerable to any future downturn.
The HCA points out that a significant proportion of the cross-subsidy for affordable homes comes from RPs reletting existing homes at higher rents, as well as other efficiencies. But it is clear the reliance on private sale, for the moment, is only heading in one direction.
Brendan Sarsfield, chief executive of Family Mosaic, says: "In the old days we were not dependent on the housing cycle. The danger is people will cut back enormously on their affordable housing programmes when a downturn happens, because if it depends on cross-subsidy from market sale and market sale disappears, then you don't have a programme."
For the moment, this isn't a danger that is showing any sign of easing.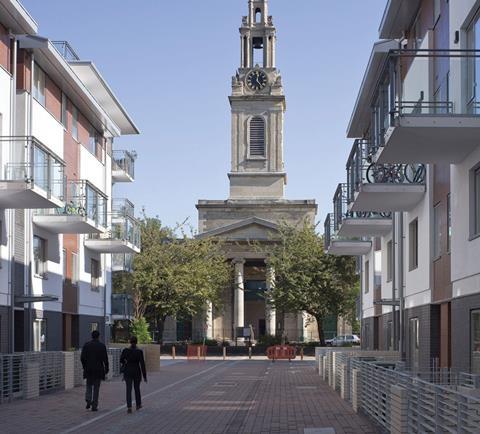 The Alan Cherry Debate
The funding and provision of new affordable housing is set to be discussed at a half day conference hosted by Countryside Properties in conjunction with Building magazine on 6 February, at the RICS, 12 Great George Street, London.
Secretary of State Eric Pickles will be the keynote speaker with other contributors including David Lunts, executive director of housing at the GLA, Christine Whitehead, from the Cambridge Centre for Housing and Planning Research, and Brendan Sarsfield, chief executive at housing association Family Mosaic.
Countryside will also announce the winner of its annual Alan Cherry Placemaking Award.
Where is regulation going?
Following the Homes and Communities Agency's (HCA) ultimately abortive attempt to "ring-fence" the commercial activities of housing associations last year, the sector successfully argued that it would be impossible to truly disentangle their commercial and regulated work.
In part this is because even for associations that have deliberately set up a separate business to run private sale arms, these are often funded by loans from the main group. If the private sale arm then got into difficulty, this would endanger the repayment of the loans, thereby potentially pulling the whole group into trouble.
And many associations do not even take the precaution of setting up as a separate business. Jonathan Walters, from the HCA, says: "The killer argument was that it might force associations to move assets around their group structure. This could lead lenders to reprice their existing loans."
Instead the HCA is now set to propose a new regime under which associations will have to consider much more closely "the impact of any recourse that might come back to it", says Walters. This means stress-testing against downturn scenarios. Walters say the different associations will have to take a view individually as to exactly what scenarios they test against, but they will have to be based on "plausible worst-case scenarios from a review of the last 10-15 year cycle."
The HCA will consult in detail on the proposals in "the next three to four months", says Walters.