Incoming chief executive Jeff Fairburn announces housebuilder will cut its three operating divisions to two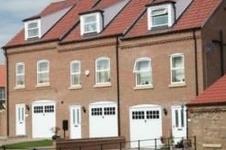 The incoming chief executive at housebuilder Persimmon has acted to make operational efficiencies and increase the firm's focus on strategic land before he takes full control in April.
Jeff Fairburn, who is group managing director and north division chief executive at the firm, was this week appointed group chief executive to replace Mike Farley, who will retire on 18 April.
In Fairburn's first action since being named group chief executive, he revealed this week that the firm will cut its three operating divisions to two, with the North and South division being retained and the central division being abolished.
Fairburn said the move was designed to improve communication within the business, and that the central division boss David Thornton was being redeployed to focus on sales and marketing, customer care and health and safety across the group. "It's not about driving cost out. It is about making operational efficiencies and getting messages more quickly out to the business," he said.
He said he has also appointed two strategic land directors to aid Persimmon in bringing long-term