Planned £2.3bn acquisition of the US engineering firm sees Aecom overtake Atkins by head count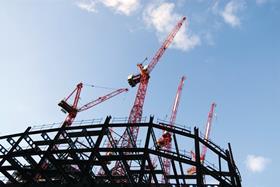 Aecom's planned $4bn (£2.3bn) acquisition of fellow US engineering giant URS will see it overtake Atkins as the UK's largest consultant by head count, with 11,028 staff.
The deal, announced this week, will create a combined global company with $19bn (£11.1bn) revenue and more than 95,000 employees.
News of the deal came in the same week as Galliford Try announced it had acquired Miller's £410m-turnover construction business in a £16.6m deal, with Miller offloading the loss-making division to pave the way for the flotation of its housebuilding business (see pages box below).
In the UK, the Aecom-URS deal will combine Aecom, with 4,016 staff and £430m turnover, with its bigger rival URS, with 7,012 staff and £489.7m revenue.
This will enable Aecom to leapfrog rival consultants Atkins (9,374 staff), Jacobs (8,274 staff) and Mott MacDonald (5,398 staff) to become the UK's largest consultant by headcount.
Aecom will be the second largest consultant in the UK by revenue, with £919.7m revenue, just shy of Atkins' £967.7m revenue.
All headcount and revenue figures are taken from Building's Top 200 Consultants 2013 league table.
Richard Steer, chair of Gleeds Worldwide, said the merger was part of a continued trend towards "polarisation" in the size of firms in the consultancy market that would make it increasingly difficult for medium-sized firms to win work, although he said the deal would have a "negligible" effect on project management and quantity surveying given URS' small capability in those markets.
Steer said he doubted many clients would find the offer of a combined design and cost management service attractive. "We firmly believe that clients looking for time and cost advice need to employ consultants that are separate to the design team," he said.
Both Aecom and URS have a significant UK presence, after Aecom acquired UK-based consultant Davis Langdon and URS acquired UK-based consultant Scott Wilson, both in 2010.
Martin Koffel, chairman and chief executive of URS, told analysts this week there would be no "shock effect" for staff in integrating the two companies as both firms had been through many mergers and acquisitions and had the "cultural mind set that can work with it".
Aecom and URS, both based in California, expect to close the deal in October.

Aecom targets new global markets with £2.3bn URS deal
Acquisition of fellow US engineering giant signals move into oil, gas, nuclear and industrial sectors
Aecom is acquiring URS to expand in the global oil and gas, power, and government services sectors, the firm's boss said this week.
Mike Burke, Aecom chief executive and chairman, announced the planned $4bn (£2.3bn) acquisition of fellow US engineering giant URS this week. He told analysts that Aecom's primary goal would be to "cross-sell" URS' US expertise in the booming oil, gas, power, nuclear and industrial sectors where Aecom previously had little foothold.
Burke said the deal, which will create a combined global company with $19bn (£11.1bn) revenue and more than 95,000 employees, would help Aecom "achieve our vision to become the premier fully-integrated infrastructure firm in the world".
The firms expect to achieve $250m (£146m) in "annual cost saving synergies", nearly all of which will be achieved by the end of the 2016 financial year, with detail on where savings will be achieved to be provided at a later date.
Burke said: "More than half of [URS'] business is entirely complementary to ours, and in markets or services that we do not provide today.
"We fully expect to be able to utilise the deep expertise of URS in energy, power and industrial [work]to be able to deliver that through our global platform."
The URS and Aecom government services businesses will combine to form one business.
Burke said he expects to lead the combined firm after the transaction closes. Two URS board members will be elected to the Aecom board.
In the UK, Burke said URS provides design services that are "different to the type we provide today".
URS' UK business is more heavily weighted towards engineering, while Aecom has a much higher proportion of quantity surveyors and project managers (see chart).
Aecom declined to comment on the deal's implication for the two firms' respective UK leadership teams as Building went to press on Wednesday (16 July), but Steve Morriss, existing chief executive in Europe, the Middle East and Africa, said the deal was "an exciting one for both companies".
"Many of our clients are asking for a broader range of services across an increasing number of locations, and the combination of skills and talent that upon completion we will be able to provide will ensure we have the strength and breadth to meet their needs," he said.
Aecom proposes to buy the entire URS stock and is offering $56.31 (£32.88) per URS share in a cash and share transfer deal, broken down into $33 (£19.27) in cash and 0.734 Aecom shares for every URS share.
Under the deal the combined firm will be 65% owned by Aecom shareholders and 35% owned by URS shareholders.
The level of debt of the combined firm at $5.2bn (£3bn) concerned credit watchdogs, with Standard & Poor announcing that a downgrade of Aecom's credit rating "is likely", while Moody's placed URS' credit rating under review for downgrade.