Firm looks at potential design and PPP roles on scheme to connect US and Canada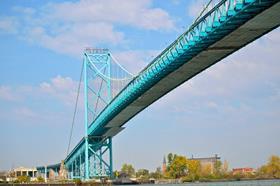 Aecom is eyeing a number of possible roles on a £1.4bn new river bridge set to be built between the United States and Canada.
The New International Trade Crossing, which will cross the Detroit river to connect the US city of Detroit and Windsor, Ontario, in Canada, was given approval by president Obama earlier this month.
The scheme is designed to supplement the existing 84-year-old Ambassador Bridge - currently the busiest commercial link between the two countries.
Aecom is set to bid for various roles including designing the structure and helping to manage the scheme if it is built using a form of public-private partnership (PPP).
Aecom director of PPP in north America, Samara Barend, has testified on the benefits of using PPP at a number of government hearings about the project.
She told Building: "This is definitely going to be historic for north America. Michigan is looking at benefitting from the experience that Ontario has because it has a big transport PPP programme."
The firm's Davis Langdon business also has a prior involvement with the project, serving as cost consultant to Transport Canada alongside prime contractor Deloitte.
Canada will pay Michigan's share of the bridge's construction cost and recoup the outlay through future toll revenue.
The bridge is set to be completed by 2020.