Exclusive: Firm wins job to project manage new city in India that will have a population of a million people.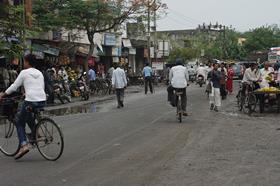 Aecom has won a contract to programme manage the development of a new city in India that will have a population of a
million people.
The construction group will plan the city of Dholera in Gujarat - including its land uses and infrastructure - and put in place the management and governance structures to develop it out.
Dholera is the largest part of India's planned Delhi Mumbai Industrial Corridor (DMIC), a 1,500km link of developments and infrastructure between India's two largest cities. Dholera will cover hundreds of square kilometres and is one of seven cities planned along the DMIC route.
Aecom's global head of buildings and places Jason Prior said prime minister David Cameron's trade mission to India in February, which he attended, may have helped Aecom seal the deal.
Aecom is targeting further "big regional city planning" work - in both the DMIC and elsewhere in India and the developing world - off the back of the award, Prior said.
Prior said the contract will initially run for at least two years. He said: "These projects require firms with our level of infrastructure to tackle them because the capability to do them any other way doesn't really exist."
He said there was growing demand for regional city planning "because [developing countries] are growing so rapidly and have got so much going on that they're not used to dealing with this scale of decision making".
Staff in Aecom's buildings and places division in Europe, India, Hong Kong and China will work on the project. Prior said success was dependent on Aecom's "ability to combine our international experience with harnessing and expanding our local [Indian] team to make it happen".
He said Aecom is also closely tracking potential opportunities from a second proposed infrastructure corridor between Mumbai and Bangalore focused on "innovation", which was announced during Cameron's trade mission in February.
The Dholera project will be delivered for a political steering group of central and state government representatives.
Prior added: "It's a huge responsibility and a huge project."