Cordon erected around demolition work on site means locals have had no access to their property for weeks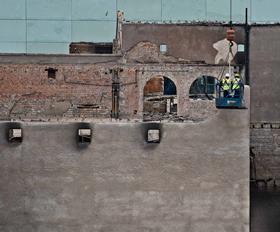 Residents and business owners barred from returning to their properties after the June fire at the Glasgow School of Art are considering legal action against Kier, the city council and the art school.
A safety cordon has prevented access to 33 households and 55 businesses since its erection on 15 June following a blaze which gutted the Grade A listed Mackintosh building. Behind the cordon, demolition contractor Reigart is undertaking dismantling work to prevent the collapse of parts of the building.
Govan Law Centre, a not-for-profit legal practice, said it has held a meeting with representatives of Sauchiehall Street Inner Cordon Businesses and is looking into a public interest litigation.
In a statement, Govan Law Centre said: "While Glasgow School of Art and Kier Construction are ultimately responsible for the fire, Glasgow City Council are responsible for risk assessment, the cordon and building control management." The cause of the fire is not yet publically known.
According to the centre, locals have been unable to enter their homes for over nine weeks, including even to collect passports, medicines, car keys or clothes.
Mike Dailly, solicitor advocate at Govan Law Centre, said: "55 Sauchie Street businesses – with 350 jobs – are under serious threat of going bust. Ordinary residents and local businesses are suffering and have lost a lot of money."
At the time of the fire Kier had been working on a £25m contract to restore the building, following a smaller fire on the site in 2014. The restoration work was due to be completed in January 2019, however the contract was terminated the end of June. In a joint statement at the time, Kier and the school said: "Both parties agreed that the current contract could no longer be fulfilled or completed."
The director of the Glasgow School of Art, Tom Inns, said: "We agree that enabling the community to return to their homes and businesses as soon as possible is the priority, which is why we are working seven days a week to make the Mackintosh Building safe and stable."
A spokesperson for the city council said: "The council has acted under Section 29 of the Building (Scotland) Act 2003 in order to protect life. Our priority remains getting residents and businesses back to their properties safely."
Kier has been contacted for comment.