New chief outlines three year plan after joining in March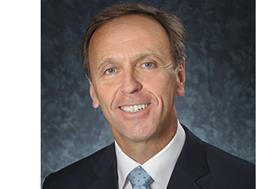 Arcadis "needs to be sharper" in choosing and carrying out its work, its new boss Peter Oosterveer has told staff.
The Dutchman was discussing the firm's 2018-2020 strategy after running the rule over the 27,000-strong firm he joined back in the spring.
"I see opportunities for improvement that will create opportunities for growth within the company," he added. "We don't need to be everything to everyone everywhere in the world."
He added the firm, which finished replacing the EC Harris and Hyder Consulting brands last year, needs to be more selective in the schemes it bids for and choose clients who will not string out paying up.
The UK makes up 16% of Arcadis' €3.3bn (£2.9bn) revenue and its boss Alan Brookes said it was typically winning 70% of work it goes after, including major schemes with the UK's current biggest Chinese investor R&F.
Arcadis is understood to be working as the project manager and QS on the redevelopment of Queens Square in Croydon.
R&F Properties acquired the south London site in spring, which includes the grade II listed Segas House, completed in 1941, and the 200,000ft2 St Georges tower – better known as the former UK home of KitKat maker Nestlé which moved out five years ago to a new home at Gatwick.
Brookes said the Chinese were continuing to "put money into the UK very, very strongly" on the back of the lower pound.
He added that the weak pound was paving the way for a new influx of foreign students into the country's universities, which was boosting work in the education sector.
The UK arm, which Brookes said continues to grow, recently formed a partnership with offsite construction specialist Caledonian to develop new modular designs for housing.
Arcadis also revealed that it is targeting operating margins across the group of 8.5% to 9.5% – compared to the 7.1% it posted last year – and is looking at more organic growth, which was 3% of revenue in the third quarter of this year.