Combined firm will offer 'full set of services' in UK and Middle East, Arcadis CEO says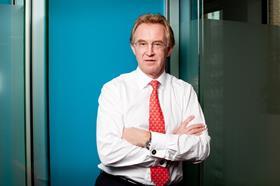 Arcadis' planned £256m acquisition of UK engineer Hyder will benefit its existing UK-based business EC Harris by enabling it to offer a "full set of integrated services", particularly in the UK and Middle East, Arcadis chief executive Neil McArthur has said.
Arcadis revealed yesterday it has agreed a deal with the board of £297m-turnover, 4,500-strong Hyder, with the deal expected to close in the fourth quarter this year, subject to shareholder backing.
Arcadis will grow to become a €2.9bn-turnover (£2.3bn), 26,500-strong business if the deal goes ahead.
Speaking after the announcement, McArthur told Building EC Harris would "benefit greatly from the deal", particularly from being able to "combine its project management, cost management and business advisory services with Hyder's design and engineering services" in the UK and Middle East.
McArthur said: "The deal will allow EC Harris to offer our clients a full suite of business capabilities, including design and engineering."
The deal will roughly double Arcadis' businesses in the UK and Middle East, while enabling it to enter the Australian market for the first time.
Arcadis' UK division, which trades as EC Harris, will expand to a €322m-turnover (£255.5m), 3,800-strong business.
Arcadis' Middle East business will jump to €179m (£142m) turnover, while the firm will gain a €79m (£63m) foothold in Australia.
McArthur said Arcadis has identified "growth opportunities" from utilising Hyder's 900-strong offshore engineering design facilities in the Philippines, India and Jordan.
The facilities, known as Design Excellence Centers (DECs), carry out schematic and detailed engineering design work for Hyder's market-facing businesses elsewhere in the world.
McArthur said building on Hyder's "offshoring" model would not result in job cuts, but may change the make-up of engineers' work in client-facing markets, with engineers asked to do "more conceptual engineering design work" in "integrated client-focussed teams".
He said: "Hyder has cracked the code of separating conceptual engineering design work, done in client markets, from schematic and detailed design work, which is offshored to countries with a lower cost base."
He said the DECs offered a "high quality service" and were "drawn from the best engineering schools in these countries".
Arcadis' overall professional and sector mix will remain largely unchanged after the deal, although program, project and cost management services will reduce to make up 21% of the business, down from 24%, while design and engineering services will rise to 32%, up from 22%.
Arcadis said it expected to make "annual pre-tax synergies of around £15m" from the deal, with these expected to be "fully realised by the end of 2016".
Arcadis said the savings would be "split between revenue growth and cost synergies", with savings expected from use of DECs and reduction of real estate and overlapping corporate and support functions, with "limited headcount reductions" expected to "amount to less than approximately 1% of the current Hyder workforce".
Arcadis expects to incur one-off integration costs of £7m.
Arcadis has agreed terms for a recommend cash offer of 6.50 per share for all of the shares in Hyder, representing a 40% premium on Hyder's £4.69 share price at close of business on Wednesday.
The £256m price tag for Hyder represents an 11.2 multiple of its earnings before interest, taxes, depreciation and amortisation (EBITDA).
A Hyder shareholder vote on the takeover is expected to be held in Septmeber.
Arcadis has already secured letters of intent backing the deal from shareholders holding 16% of Hyder's shares and 3% of these are irrevocable undertakings.
Hyder was founded in 1823 and floated on the London Stock Exchange in 2002.