Analysis finds inflationary growth returning as sector continues to recover
Arcadis has upgraded its tender price inflation forecast as the industry continues to defy the gloom seen in other sectors following the resurgence of the covid-19 pandemic.
In its winter 2021 market view forecast, the consultant said ongoing growth in construction following the vaccine rollout and the conclusion of a final Brexit deal had led it to express greater confidence in its outlook for the sector.
The quarterly analysis of tender prices found increasing evidence that conditions were improving and inflationary growth returning following output returning to pre-pandemic levels in November despite GDP across the wider economy falling by 2.6% that month.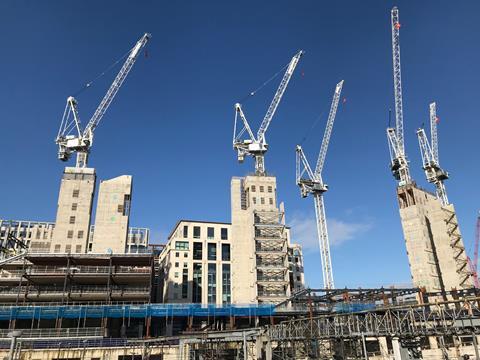 In response, the firm expects short-term tender prices to increase marginally to 1% in the regions, although it said that they are expected to remain flat in London.
Infrastructure price growth, although held at 2% for this year, has been upgraded to 4% in 2022 due to the impact of government-funded projects.
But it warned shortages of materials and components due mostly to disruption in global supply chains because of the pandemic is likely to hit project costs and could potentially result in the need to reschedule works during the first half of 2021.
And while new orders in the third quarter of last year returned to pre-pandemic levels, the industry still faces a potential £4.5bn shortfall over the preceding 12 months, with the gap likely to mean that markets will remain competitive in the short term.
Reacting to the analysis, Arcadis market intelligence lead Agnieszka Krzyzaniak said: "While we can't afford to be complacent, it has been encouraging that even in the face of such difficult conditions, the construction industry has continued to deliver.
"Our inflationary forecast is backed by growth and, despite the temporary disruption in materials supply, we can expect a gradual return to normality as the market rebalances itself from 2022 onwards."
The report added that much of the returning confidence had been driven by the government's multi-year spending commitments for infrastructure, schools and hospitals along with continued investment in the housing sector.
Arcadis UK government sector director Mark Langdale warned that the government would want to see evidence that the industry is "equipped to deliver" if support is to continue.
He urged firms to act on the recommendations in the government's Construction Playbook, published late last year, which outlined ways in which the sector could use modern methods of construction to build schemes more quickly while cutting carbon emissions.
The analysis follows a forecast by the Construction Products Association last week, which found that construction output is expected to rise 14% this year, although it warned of a temporary slump following the end of the furlough and self-support schemes in April.