HOK and Arup reveal plan for a new Thames crossing that is being proposed by business leaders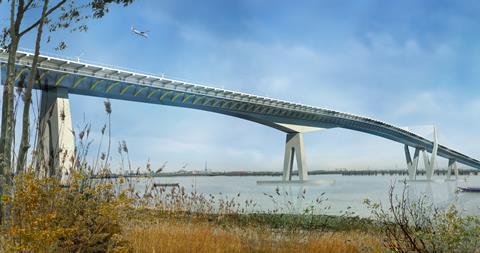 HOK and Arup have revealed images of a new Thames crossing that is being proposed by business leaders concerned about the lack of infrastructure in the Thames Gateway.
The speculative concept is being announced today to coincide with the 120th anniversary of the completion of Tower Bridge, the eastern most bridge over the Thames in London.
Called Bridge East London, the campaign for a crossing between Beckton and Thamesmead is being promoted by the London Chamber of Commerce and Industry (LCCI).
Chief executive Colin Stanbridge said the area had been overlooked for too long.
"Nearly half of London's population lives east of Tower Bridge yet they are served by only two fixed road river crossings," he said.
"It is an area with huge amounts of potential and while the Olympics acted as a crucible for creativity and dynamism in the area, its future growth is being held back by this gap in transport infrastructure."
It is one of a number of speculative bridges currently proposed for the Thames. Of these Thomas Heatherwick's garden bridge in central London is attracting the most attention. It has amassed £90 million of the £175 million price tag and went in for planning this month.
Further west, Wandsworth architecture practice One World Design has also won planning – but no funding – for its £22 million pedestrian link between Chelsea Harbour and Battersea.
Negotiations about the site of a £40 million footbridge between Nine Elms and Pimlico are also underway.
But the situation east of Tower Bridge is far worse than in west London, said Richard Gammon, HOK's global director of aviation & transportation.
"If the full potential of east London is to be harnessed and maximised to the benefit of our growing city, then we need to provide catalysts to enable that potential to flourish," he said.
Arup director Stephanos Samaras said: "Infrastructure projects such as Crossrail are going a long way to help increase capacity but this proposed bridge could provide a much needed link for east London."
Horace Jones' Tower Bridge was opened on June 30, 1894 and is now grade I listed.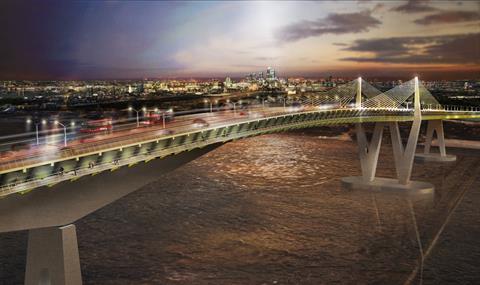 This story first appeared on Building Design.