London-based contractor to turn Old War Office building into a Raffles hotel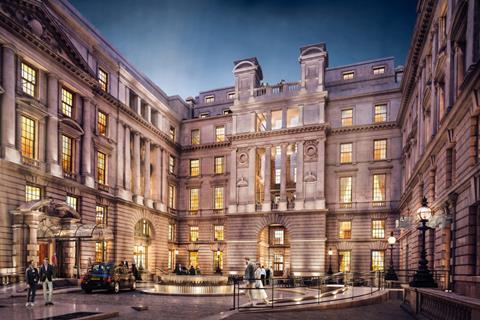 Ardmore has won the job of converting the Old War Office on Whitehall into a luxury hotel to be run by the Raffles organisation.
The £460m scheme will see the Grade II-listed building, once an office for the likes of Winston Churchill, David Lloyd George and Lord Kitchener, turned into a 125-room hotel, along with 85 luxury homes, ranging from studios to five-bedroom apartments.
Ardmore went onsite started this week. No date has been given for when the job will be completed.
Designed by architects William and Clyde Young and Sir John Taylor, consultant surveyor to HM Office of Works, the Old War Office was built between 1901 and 1906.
The building was sold by the UK government in 2016 to Indian conglomerate the Hinduja Group and Spanish real estate developer Obrasćon Huarte Lain Desarollos for what was said to be in excess of £350m.
London-based Ardmore, which ranked 79th in Building's latest Top 150 contractors' poll, said 2,500 jobs would be created in order to undertake the work.
In May Ardmore's founders Cormac and Patrick Byrne entered the Sunday Times Rich List for the first time, with an estimated fortune of £170m.
Last year the firm announced it was to build a 31-storey hall of residence in west London for Imperial College which it claimed would be the tallest masonry tower block built in the UK.
EPR Architects, which is designing the Old War Office revamp, said the building would feature a new double-height basement and a rooftop extension.