Laing O'Rourke understood to be taking over from bust firm on Liverpool project
Official confirmation that Laing O'Rourke is being lined up to restart work on the Liverpool hospital project felled by Carillion's collapse is being held up after it emerged the bust firm fitted the wrong cladding on the job.
Building understands Laing O'Rourke is waiting in the wings for the Royal Liverpool Hospital job which has been mothballed since Carillion went under in January.
Details of the timetable to complete the job were expected to be announced over the summer but these have now been put on hold after Arup completed a review of what Carillion had already built.
Earlier this month the engineer discovered Carillion fitted cladding which did not meet required standards means details of the rescue plan have still not been signed off.
And it said there were also problems with the beams which earlier this year former Carillion chief executive Richard Howson told MPs at the inquiry into the firm's collapse had cost his firm £20m to fix.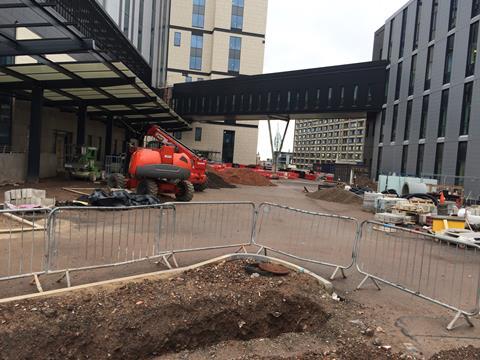 In papers published ahead of a board meeting today (Tuesday) of the Royal Liverpool and Broadgreen University Hospitals NHS Trust, chief executive Aidan Kehoe admitted: "I had hoped that an agreement regarding the development of the new hospital would have been reached by now, but unfortunately this is not the case. The main reason for this is the escalating costs to reach completion.
"The principal funders of the scheme, the European Investment Bank and Legal and General Pension Fund, have been working with ourselves and government to design a rescue package.
"This, however, has become increasingly difficult, as the work being carried out by Arup to review the structure has revealed additional work to complete the building. We believed we were close to an agreement in July, when there was greater clarity around the remedial work required to deal with the beams issue.
"However, since then an issue has been identified in relation to parts of the cladding. This has further increased the costs of the scheme."
A trust spokesperson said the board would use today's meeting to discuss the available options, including the option to terminate the project agreement.
He said: "Our aim is to have construction restarted as soon as possible, subject to the necessary legal arrangements being agreed with all parties."
One project insider said Laing O'Rourke, which is building the neighbouring Clatterbridge Cancer Centre, has been lined up for the work and Kier chief executive Haydn Mursell told Building his firm was only eyeing the Midland Met hospital scheme in Birmingham – also being built by Carillion – after telling Building: "The Liverpool one has already been taken by someone else."
The Royal Liverpool and Broadgreen University Hospitals NHS Trust and Department of Health declined to comment on whether Laing O'Rourke had been lined up for the job, while client The Hospital Company and Laing O'Rourke did not respond to requests for comment.