Contractor's shares have lost 85% of their value since last September, with some gambling they have further to fall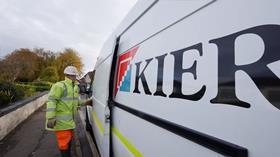 Asset managers betting against a rise in Kier's share price have ramped up their stakes as the market continues to predict a harder time ahead for the embattled contractor.
In the past week, five firms have increased their short positions on Kier, with a total of 8.4% of its stock being used to bet against it – despite the group's share price already falling by 40% this month.
Companies take short positions by borrowing shares of a listed company and immediately selling them with the intention of buying them back for a cheaper price.
One firm, TT International, upped its short stake by 0.5% of Kier's total number of shares on Tuesday – a day after the firm saw its stock fall to a new all-time of 108p.
And another, Blackstock, added to its short position on Monday as other traders were dumping Kier shares after chief executive Andrew Davies' declared plans to sell four of Kier's businesses and lay off 1,200 staff.
"People aren't playing games with short selling – firms do it to make money," said Tony Williams, analyst and chief executive of advice business Building Value.
"Every time Andrew Davies opens his mouth [Kier's] shares seem to dive by 18% and the consensus in the market is that Kier will go bust. The market isn't always right – but usually it is."
The other three firms to raise their short positions on Kier are GLG Partners, Marshall Wace and Kuvari Partners.
Kuvari Partners last year accused Kier of using "aggressive" accounting methods by using a percentage of completion method to book revenue – instead of recording actual cash flows.
Last September Kier was the most shorted firm listed on the London Stock Exchange, with more than 17% of its stock having been used to bet against the company.
Despite a small surge in its share price following its annual results announcement last September, Kier's share price went on to drop almost 90% of its value between September and June.