Atkins has bought a project management business in Singpaore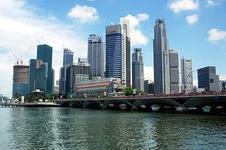 The multidisciplinary consultant said it had acquired Confluence Project Management (CPM) for £8.4m.
CPM offers services including project and construction management, and specialist programming and planning.
In the year to 30 June 2013 the company, which employs around 200 people, reported revenue of around £14.5m.
Atkins chief executive Uwe Krueger said: "This acquisition is an important further step in the delivery of our strategy to increase our regional focus and grow our business in Asia Pacific and the Middle East.
"This business brings highly-reputed client and sector knowledge and complementary regional presence and capacity to our existing project management business, as well as the ability to service increasingly complex projects for our global clients."
Donald Lawson, chief executive of worldwide operations at Atkins' consultancy arm Faithful & Gould, said the firm aimed to offer clients a "single point of delivery".
He added: "The big international clients require a consultancy that has everything in one place."
Lawson said that Faithful & Gould was not actively pursuing any further acquisitions at the moment and was focused on "business as usual".
He also said Guy Scott, executive chair of CPM, will take a seat on Faithful and Gould's senior management team, swelling its numbers by one.