David Tonkin steps down as UK engineering giant restructures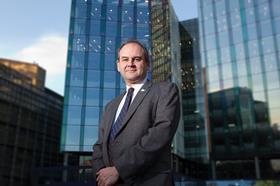 David Tonkin has stepped down as Atkins UK & Europe chief executive as part of a broader restructuring of the engineer's British operations.
Atkins announced today Tonkin, who has been UK chief executive since 2010, has resigned to "focus on the health and wellbeing of his family and pursue a more family-centric phase of his life."
He will be succeeded by Nick Roberts, who is currently strategy and growth director for Atkins' North America region.
The company said Roberts has spent much of his career with consulting companies in the UK, and internationally in the water and environment sector, and has held leadership roles in Atkins' UK design and engineering, rail and water and environment divisions.
Roberts will assume his post on 1 December 2014.
In addition, the company also announced that it is merging its six UK businesses to create four larger divisions.
The rail and highways and transportation divisions will be brought together, while the defence, aerospace and communications division will be merged with management consultants.
The firm's UK design and engineering division and water and environment division will be unaffected.
The transition to the new operation model will complete by 1 April 2015, Atkins said.
Atkins' global project management division Faithful & Gould and global energy division – which both have sizeable UK businesses – are unaffected by the restructuring.
Prof Dr Uwe Krueger, chief executive officer of Atkins, said: "As our clients and markets evolve, so must we.
These changes position us better to deliver the technical capabilities, resources and innovation that will help our clients meet their business goals and solve the increasingly complex challenges we face."
Prof Dr Krueger added: "Nick brings a wealth of knowledge from across a number of our UK markets together with an international perspective which will be extremely valuable in driving this evolution of our UK business. I would also like to thank David wholeheartedly for his dedication to Atkins over the past few years and for charting this new course for the UK & Europe region."