Analysts say move to sell consultant Parsons Brinckerhoff shows firm has abandoned its long-term strategy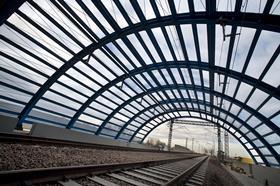 Balfour Beatty has abandoned its long-term strategy of diversifying into a global infrastructure and professional services company after announcing it intends to sell consultant Parsons Brinckerhoff, analysts have said today.
This morning Balfour Beatty posted a £30m profit warning, as a result of a forecast profit shortfall in its £2.8bn turnover UK construction business, as well as saying in intends to sell infrastructure consultancy Parsons Brinckerhoff, which it bought for £380m in 2009.
Alongside the announcement the firm said group chief executive Andrew McNaughton had resigned after just 13 months in the post.
Balfour Beatty said the move to "evaluate options for the possible sale" of Parsons Brinckerhoff was the outcome of a strategic review, with the firm looking to refocus on its core UK and US construction markets as well as its investment portfolio.
Balfour Beatty's share price was down 19% in trading this afternoon following the announcement.
Responding to the news, Kevin Cammack, analyst at Cenkos said: "Balfour Beatty is here chucking out five years of its previous strategy to penetrate higher growth markets driven by professional services, following a strategic review that we weren't told was happening, in order to focus on becoming an Anglo-US contractor.
"So on the back of the disappointing performance of UK construction, they seem to be sacrificing all of that ambition and history, and probably the best part of the business.
"If anything Parson Brinckerhoff has been the shining star of the business. [Selling it] is a retrograde step that means any hope of raising the group profit margin has been lost, and it will be seen as a panic measure.
"Balfour Beatty is saying all the problems are here in UK construction, at the same time as this is the very business it's now telling investors is the future of Balfour Beatty.
"The image of Balfour Beatty that [previous group chief executive] Ian Tyler had, and which presumably Andrew McNaughton had been signed up to working to deliver, is now gone forever.
"They'll never get out of low margin cyclical construction and deliver the integrated global business they aspired to now. They tried and they failed."
Stephen Rawlinson, an analyst at Whitman Howard, said Balfour Beatty had "effectively abandoned [its strategy] as it did not work in three of the worst years in the construction sector's history".
He said: "The strategy of providing a 'soup to nuts' infrastructure services operation is sound but has not been implemented."
He said Balfour Beatty's problems were "about poor management and failure to implement a good strategy over many years … and not the markets in which it and others operate".
He added: "It will take 6-9 months for Balfour Beatty to find out which way is up. In the meantime new work will be hard to win and it may start to get too close for comfort to bonding and covenant constraints if not very careful.
"In the meantime it may be that the company gets into the target sights of a bidder. To outsiders it may be that a US or a continental European entity may see value in the business."