Office space and student flats will sit above old Roman city wall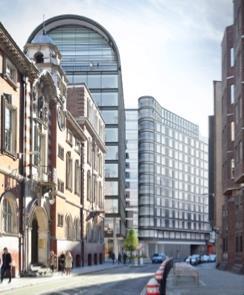 Balfour Beatty has been appointed by specialist developer Urbanest to build an £85m office and student accommodation development in the City of London.
The site sits on exposed Roman city wall and bastion, which will be accessible via a public viewing gallery in a two-level basement.
Above, the scheme will house 654 student bed spaces across a 14-storey building fronting Vine Street, a 12-storey building facing Crutched Friars to the west and a six-storey building adjacent to Crosswall.
The scheme also includes a 12-storey office-building on India Street.
The ground floor of the Vine Street building will accommodate the student and office reception as well as utilities, loading bay and substation.
Construction will start this year, with over 250 people expected to work on the project at its peak. The development is expected to be finished in 2021.