Contractor pays off £253m convertible bond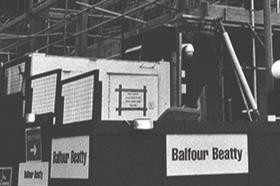 Balfour Beatty has paid down 45% of its gross debt in the last 12 months after using cash reserves to repay off a £253m convertible bond.
The country's largest contractor has seen its debt shrink from £640m to £350m while other large contractors begin to creak under their debt load.
Interserve's share price hit a new low of 22p today – a 56% fall in the past month after the share price stood at 50.5p on 5 November – as it continues to firefight its £650m net debt, while Kier launched a £264m rights issue on Friday to cut debts.
Balfour issued convertible bonds back in 2013, telling investors it wanted to "take advantage of currently favourable convertible market conditions to continue diversifying its funding sources".
Convertible bonds are a type of bond which can be converted into a set number of shares in the issuing company – but pay out less interest than normal bonds. The firm said the bond had not been transferred into shares.