But staff at Northampton office offer counter proposal in bid to keep jobs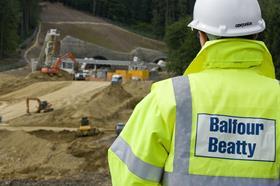 Balfour Beatty is planning to close a further regional office, with 120 jobs at risk, as part of an ongoing review of the viability of its regional UK construction business
The firm confirmed it was planning to close its regional civil engineering office in Northampton, with the firm currently in consultation with the 120 staff.
This comes after the announcement last week that it will close offices in Dartford, Rochdale and Doncaster, with around 200 jobs at risk.
However, the firm said the staff at the Northampton office had drawn-up alternative plans in a bid to keep the office open.
A Balfour Beatty spokeswoman said: "We can confirm that we have opened up consultation with employees around closure of our Northampton office.
"We have since received a counter proposal from employees which does not involve closure. The business is currently considering this proposal.
"As we are in consultation with employees around this counter proposal it would be inappropriate to comment further."
The closures follow a £50m profit warning in April, when Balfour Beatty Group chief executive Andrew McNaughton seized control of the UK construction business, and former chief executive Mike Peasland stepped down to the role of managing director of the regional business, where around £38m of the £50m hit was located.
Now the firm has appointed former Bovis boss Nick Pollard as chief executive of the UK construction business.
Last year Balfour Beatty announced a major restructure of its UK operations, which saw the number of regional offices cut from 75 to 37, six operating companies reduced one and around 650 job losses.
The firm said there were no plans currently in place for further office closures.
But Kevin Cammack, an analyst at Cenkos, said he did "not expect this to be the end of the restructuring". "Further consolidation and closures are likely to follow of a greater scale in my view," he said.
"These actions at least show Balfour Beatty is serious about tackling the problems of UK construction and should in short time enable group chief executive Andrew McNaughton to return to the bigger strategic task in hand - expanding the internationalisation of the group."