Third group executive director this year leaves, while CSUK business is brought under direct Balfour control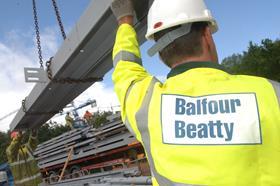 A key member of contractor Balfour Beatty's group executive leadership team has left the business as it also emerged the firm is to reduce the autonomy of its powerful UK construction arm, known as Construction Services UK.
Chris Vaughan, general counsel and company secretary for the £8.8bn turnover firm, and part of the 10-man executive committee running the group, has left to take another job.
Vaughan's role as group general counsel is to be taken by David Mercer, currently general counsel for the UK construction business. Vaughan is the third member of the group executive committee to leave the business this year, with Construction Services UK (CSUK) chief executive Nick Pollard stepping down last month and former group finance director Duncan McGrath leaving in May.
The move comes as all of CSUK's business functions - such as HR, IT and finance - are being scrapped, with these functions in future to be controlled by the group. This restructure is happening under the direction of group chief executive Leo Quinn, who has pledged to cut £100m of cost out of the business within two years of him taking up his role in January this year.
Building understands the restructure means CSUK will become in effect an operational arm of Balfour, rather than a separate business.
The restructure means that Mercer's UK role will not be replaced as he moves to fill Vaughan's vacant position. Similarly, other CSUK business function leaders, such as sustainability director Paul Toyne and HR director Liam Donnelly have taken group roles but will not be replaced in CSUK.
Consolidating and standardising our support functions under one UK model is part of our Build to Last transformation programme

Balfour Beatty spokesperson
The change in structure, designed to contribute toward Quinn's target of cutting £100m of costs, has apparently been reflected in the title given to former De La Rue executive Dean Banks, who was last month appointed to run CSUK. Banks has been given the title of managing director, where his predecessor Nick Pollard was chief executive.
At the firm's results presentation in March, Quinn said there was "ample opportunity" to cut costs in back office functions, and that "we're standardising them across all of the businesses". However, it has not previously been explicitly said that CSUK will lose its functional team.
The news comes following a number of departures of senior operational staff in the UK in recent weeks. This week Steve Davies, the former regional managing director for the Midlands became the latest to exit, joining rival contractor Seddon as commercial director.
In an email to staff, Quinn said Keely Hibbitt will now be David Mercer's deputy and that Chris Healy will take over the departing Chris Vaughan's company secretary duties, with the changes taking effect from this Wednesday. Quinn said: "David [Mercer] has 30 years' experience in commercial and international law. Before joining Balfour Beatty he worked in-house at BP, where he held a number of senior positions around the world, and in private practice … We wish Chris [Vaughan] well in his new post and thank him for his contribution to Balfour Beatty."
A spokesperson for Balfour Beatty said: "Consolidating and standardising our support functions under one UK model is part of our Build to Last transformation programme. It's about providing a suitably sized support structure for our business, offering consistent processes, controls and ways of working, 'leaning-out' our costs to be more competitive in the marketplace and allowing our operational teams to focus on winning and delivering work."