Scheme to update 1960s block will finish next year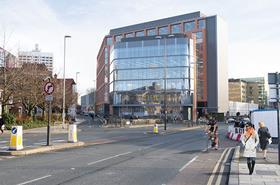 Developer Town Centre Securities has appointed Bam Construction to carry out a £41m refurbishment on a 1960s office building in Leeds.
The contractor will remodel and refurbish the 10 floor building called Merrion House, which is part of the city's Merrion shopping centre, and will also be responsible for its fit-out. It will be re-clad into a fully glazed and curtain walled structure.
The programme includes an element of new build over seven and eight storeys to increase the floor area and capacity.
The scheme is expected to be completed by the end of 2017.
Bam construction director Kevin Pollard said there were "several complex aspects to the works" and added it will be "a very visible building as you enter Leeds from the north."
Merrion House had been occupied by staff from the city council, which is due to consolidate a number of its smaller offices across the city into the new building once construction work
is completed.