Work set to start later this spring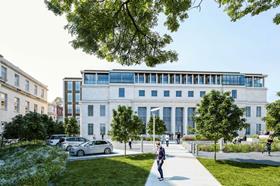 Bam is preferred bidder for a £96m science building planned for Leeds university.
The Sir William Henry Bragg Building, named after the Nobel prize winning physicist who was professor of physics at the university for six years until 1915, will be home for the schools of computing and physics & astronomy, as well as the Bragg Centre for Materials Research.
The project, which is part of a wider investment in the university's estate, is the largest single investment the university has ever made.
The job, which received planning permission last September, involves refurbishing the existing grade II listed Old Mining Building, with an additional roof top extension, while the remainder of the site will be made up of a new build.
The building will provide a total floor area of more than 16,000sq m across seven storeys.
The new-build element will link directly to the university's existing engineering and chemistry facilities.
Dessigned by ADP, project manager is Arcadis with cost management being carried out by Gardiner & Theobald. Curtin and Arup are providing engineering services.

Construction starts later this spring and is due to finish in summer 2020.