Contractor will refurbish and expand Duke of York's Royal Military School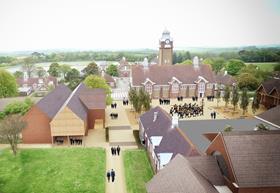 BAM Construction has won the contract to deliver the £25m expansion of a military boarding school in Dover.
The project will significantly increase the capacity of the Duke of York's Royal Military School, refurbishing existing Grade II listed buildings, providing a sports hall, two two-storey teaching blocks and four two-storey junior boarding houses.
Capacity at the co-educational school, which became an "Academy with Military Traditions" two years ago and is open to the children of both serving and non-serving parents, will increase from 468 to 722.
Project director Rod Stiles said BAM would be using its extensive experience in the education sector to help the historic school upgrade its facilities.
"This scheme will provide cutting edge teaching, living and sporting facilities for students while remaining loyal to its historic roots," he said.
"Most of the suppliers and construction workforce will be from Kent and our training programmes will continue to develop new local construction apprentices."
BAM is currently working on three academies in Medway, and recently rebuilt campus facilities at Dartford and Gravesend for North West Kent College.