Proposal to convert derelict properties into 100,000ft2 retail and leisure complex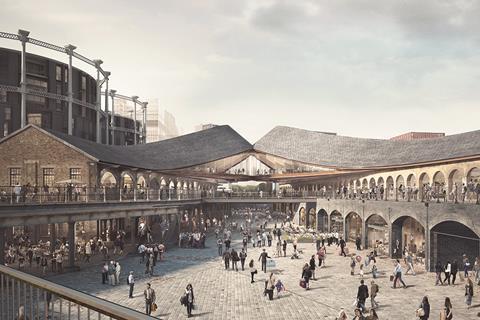 Developer Argent is lining up contractor Bam to deliver a striking Thomas Heatherwick-designed retail complex and piazza at its mammoth King's Cross development in London, Building understands.
The scheme – thought to be worth up to £100m – will transform three derelict coal drops into 100,000ft2 of shops, restaurants, galleries and bars. The scheme was awarded planning permission last night by Camden council planning committee, which voted nine to one in favour.
Construction work on the Yard will begin in early 2016, and it will open to the public in 2018.
The news comes after Bam picked up a 230,000ft2 mixed-use scheme for Hong Kong client Anquila Corporation at 63-65 Buckingham Gate in London's Victoria area.
Commenting on the Coal Yards planning approval, Heatherwick said: "We are thrilled to finally bring this extraordinary and largely unknown Victorian industrial site into public use for the first time.
"These two historic structures were never originally designed for people to circulate through and by themselves would have never made a successful retail destination if we did nothing more than clean them and fill them with shops; the distance between them being too great to have any social chemistry with each other and only two stories of activity would not create enough busy-ness and vitality.
"So rather than adding an entirely foreign new structure to connect the old buildings, we chose simply to bend and stitch the two roofs together, forming another level of activity underneath, and framing and weather-protecting a dynamic new public space for the city."
Morwenna Hall, senior projects director at Argent, said: "Coal Drops Yard has been designed to be a shopping experience unlike any other.
"The design by Heatherwick Studio is a considered response to the important Victorian industrial buildings from the 1850s; in fact, the ability for future visitors to the Coal Drops Yard to appreciate the history and various functions of these buildings has been fundamental to the design process."