A joint venture between Bam Nuttall and Van Oord has won a £75m contract as part of the £300m Liverpool container port development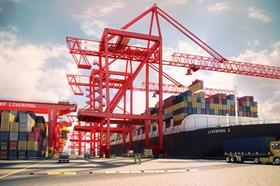 Lend Lease is principal contractor on the £300m terminal expansion at Seaforth which will accommodate some of the world's largest container ships to use the Mersey and is due to open for business in 2015.
Under the contract, Bam Nuttall will design the quay wall and the crane rails, construct a new 854 metre quay wall, and install ship to shore quay crane rails as well as supporting infrastructure works such as the construction of new road, surfacing and fencing.
Van Oord will dredge soft materials using a combination of Van Oord's water injection dredging technique and backhoe dredger Goliath, the largest backhoe dredger in Europe.
Peel Ports Programme Director, Douglas Coleman said: "The appointment of the Bam Nuttall / Van Oord JV for this crucial package of work represents a significant milestone in the delivery of the Liverpool2 project.
"The joint venture secured the package of work amidst an intense environment of competition. We are delighted to be working with the joint venture on this complex and challenging aspect of the project."