Exclusive: Bam Construct has been chosen for the high-profile job to build a £45m veterinary school at the University of Surrey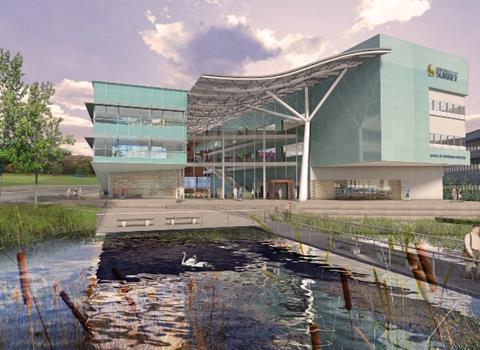 Bam is understood to have beaten Kier, Vinci, Miller and Shepherd to the job, which is worth £29m
The new veterinary school, which will be the first in the South-east outside London, is designed by Devereux Architects and includes a main academic centre with offices, teaching spaces, and lecture theatres.
The 7,150 sq m academic building will also have teaching and state-of-the-art research laboratories built to the highest levels of biosecurity.
The 2,500 sq m animal management centre will provide high containment teaching and research labs, while the 1,500 sq m clinical skills building will include an animal examination area.
The project was given the green light by Guildford council in November, with construction due start in February, with completion by summer 2015.
Bam construction manager Anthony Nagle said: "Bam is delighted to have been chosen for this major scheme at the University of Surrey.
"We look forward to creating top-class facilities for students, teachers and clinicians and – just as importantly – to ensuring the project benefits the regional veterinary community by providing lifelong learning facilities, research and commercial opportunities to work with the university."
The contract win is the second high-profile job that Bam has picked up this week, after Building revealed on Monday that the contractor had won the prestigious job to construct the new headquarters for the Metropolitan Police in the iconic Curtis Green building on London's Victoria Embankment.