The Department of Education has said that BAM is its preferred contractor for the fit out of its new headquarters.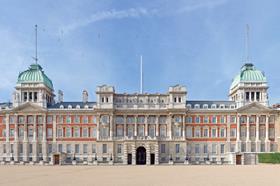 BAM is the preferred contractor for the refurbishment of the Department of Education's new headquarters in Whitehall.
The department is to move to the Old Admiralty Building in Horseguards Parade in 2017.
The contract value is expected to be £45m and BAM have agreed a pre-construction services agreement so that procurement can begin.
A planning application has been submitted to Westminster City Council ahead of the proposed refurbishment, which is due to start in November 2015.
The department and the Government Property Unit are in talks with the council and Historic England about the internal changes needed to ensure the building is fit to accommodate 1,600 staff in the 21st century.
Andy Mason, construction director for BAM Construction London, said: "This is the kind of challenge that BAM has shown time and again it can deliver successfully and we are thrilled to be part of the team. We will be working carefully with Historic England on many of the decisions that will need to be taken on this historic and complex building."