Job has been stalled since Carillion collapsed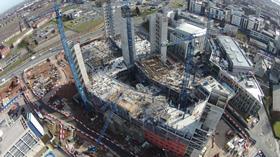 Funding has been pulled for the Midland Metropolitan Hospital job, where work has been stopped since Carillion collapsed in January.
The European Investment Bank (EIB) was part of a consortium of five banks that loaned the NHS trust £107m to pay for the construction work.
But, with work still halted and no sign of it recommencing, the EIB confirmed it has terminated the deal.
It means when Sandwell and West Birmingham Hospital Trust appoint a new building contractor, it will have to find another way to finance the build. The EIB did say it would be open to a new proposal from the trust.
The EIB said it "expected to incur a significant loss" on the job, as Carillion already had access to the funds.
The consortium – made up of the EIB, Credit Agricole, KfW IPEX, DZ Bank and Sumitomo Mitsubishi Banking Corporation – continued to cover project costs since Carillion's collapse, which has totalled around £5m.
Toby Lewis, chief executive of Sandwell & West Birmingham Hospitals NHS Trust, said: "The statement from our private finance partner's funders is not wholly unexpected.
"It reflects a recent governmental decision that the extant PFI contract will not provide the vehicle to complete the hospital.
"We are working with partners locally and nationally to hand the site and the project back to the Trust in coming weeks. Discussions about finishing Midland Met continue and we would very much hope that during June we see material progress."
Earlier in the week, Lewis said opening the hospital in 2020 was "becoming unfeasible" and with completion more likely for 2022.