UK's biggest housebuilder says it will remobilise when 'safe and appropriate'
The country's biggest housebuilder has left customers, suppliers and investors in the dark over when it plans to re-open sites.
Announcing yesterday afternoon that it had secured a place on the government's coronavirus loans scheme, the firm said only that it was working to re-open "when it is safe and appropriate to do so".
Taylor Wimpey and Persimmon, the other firms that make up the country's three biggest housebuilders, have both announced plans to remobilise sites.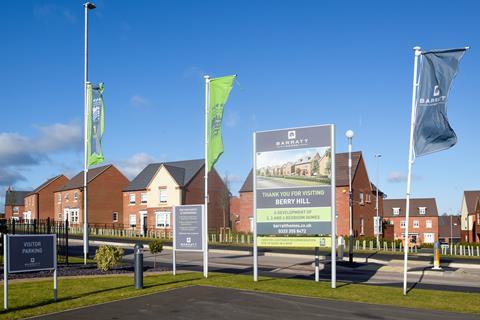 But Barratt, which has furloughed 85% of its staff, more than 5,500 people, has not yet said when it might follow suit.
In a statement yesterday afternoon announcing the firm was eligible to access funding under the government's Covid Corporate Financing Facility, the firm said: "As a business we continue to focus on taking the right actions and planning for the future so that we are well-placed to be able to continue to deliver the high quality homes the country needs when it is safe and appropriate to do so."
The firm shut its sites last month.