Development company already admitted Phase 3a would miss guaranteed completion dates for homes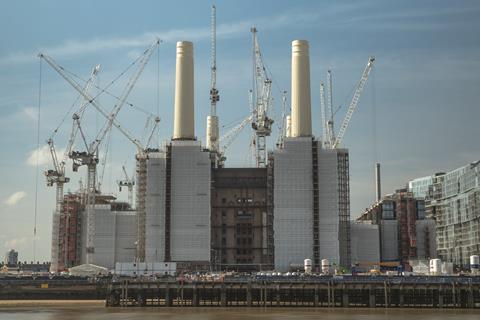 The company behind the redevelopment of Battersea Power Station has given buyers on the scheme's second phase the opportunity to pull out because of delays to completing their homes.
Last year, Battersea Power Station Development Company (BPSDC) admitted guaranteed completion dates would be missed for the 538-home Phase 3a, which was designed by Foster + Partners and Frank Gehry and is being built by Sir Robert McAlpine, forcing it to offer to hand deposits back to customers.
Now Ian Feast, the former McAlpine director who is BPSDC's head of delivery across all phases of the development, has admitted it has made the same offer to buyers on the scheme's second phase.
He said this was happening with purchasers "where there is a possibility we won't achieve the indicated move-in date".
But he said "the majority […] have indicated they are committed to their purchase". A spokesperson for BPSDC said it contacted Phase 2 buyers about this proposal in late March but added that it was now having "more detailed conversations with purchasers regarding their move-in dates".
The majority […] have indicated they are committed to their purchase

Ian Feast, BPSDC
Feast added: "We're now saying, this is where we are, [and] the feedback we've had is really positive – I'm unaware of anyone who's handed their contract back."
Phase 2 of the project, which is centred on the power station building itself, has been plagued by delays, which saw Skanska leave and Mace brought in on a construction management contract two years ago.
At the time, Phase 2's price had ballooned from £750m to £1.15bn, with Feast saying Mace had stabilised costs after former chief executive Rob Tincknell admitted in 2017 that the price could hit £1.5bn. "It's not moved markedly," Feast said.
Phase 2 is made up of 254 homes, with events, retail and office space. Its centrepiece will be a new 45,000m² London headquarters for US tech giant Apple.
Feast also dismissed recent newspaper claims that prices on returned flats in Phase 3a, put back on the market after disgruntled buyers decided to cut their losses, were being slashed by 40%.
He said prices have only been "single-figure digit" reductions on the original contracts, with £120m of sales made last year.
Feast, who was appointed to oversee the whole of the project earlier this spring, also responded to worries about the number of senior management who have left in recent months. "A couple of people have decided to move for personal reasons. Battersea is a really challenging project," he said.
Tincknell, who was chief executive at the developer for a decade, left last year, and this spring has been followed out of the door by Phase 2 boss Kevin Bundy, chief operating officer Simon Jenner and head of delivery Matthew Lusty.