Housebuilder reports sharp drop in interim profit
London-focused housebuilder Berkeley Group has said it will start production at its volumetric housing factory in Ebbsfleet next year, and has hired 40 staff to run the facility.
Announcing half-year results today showing profit and revenue sharply down, as expected, the housebuilder said the selling price of its homes remained "firm" and that its forward order book had risen for the first time since 2016.
The business said the first modules from its Kent factory would be delivered to site next year, with "good progress" made on the factory.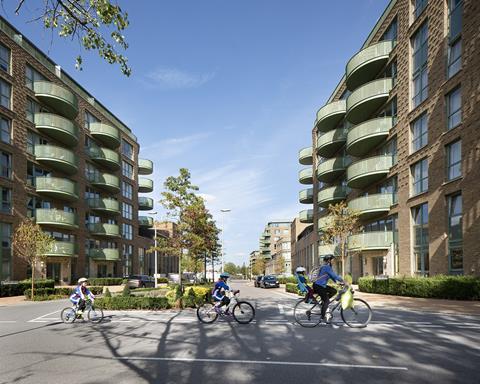 Berkeley chair Tony Pidgley said all divisions now had targets to increase the use of offsite assembly of homes, and added: "The machinery is due to be commissioned throughout 2020 […] We have employed more than 30 staff for the factory operations, with 10 apprentices being trained to operate the machinery."
But the firm implied it had not yet finalised the new volumetric product it plans to start supplying next year. "We continue to work with our supply chain partners to create a volumetric modular solution for production at the Berkeley Modular facility," the statement said.
Others active in the area of offsite and modern methods of construction are looking closely at Berkeley's progress, given the delays and setbacks experienced by the likes of L&G, which has reported losses of more than £70m from its modular factory in three years.
The comments came as Berkeley reported profit before tax for the six months to October of £277m, down 31% on the same period a year ago, on revenue of £931m, down almost 45%. Berkeley's drop in revenue and profit had been extensively flagged, given the weakness in the London housing market since the 2016 EU referendum.
Berkeley's Pidgley said the results "reflect the consistent execution of Berkeley's uniquely long-term strategy".
David O'Brien, equity analyst at Goodbody, said the profit drop "did not come as a surprise" and added: "Berkeley Group is unique among housebuilders as it is predominantly London-based and takes on technically challenging, longer-term projects. While building in London comes with challenges, their model gives them good visibility of the market. It is positive that the group reports continued stability in underlying markets, particularly London."
Since the downturn, the housebuilder has increasingly focused on sites outside London, concentrating its business in the capital on major long-term regeneration schemes. Forward sales grew to £1.9bn, up from £1.8bn six months previously.