Developer to build 1,465 homes on warehouse site in west London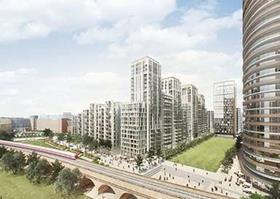 St James' huge White City residential development in west London has been given the green light by Hammersmith & Fulham council.
The developer, part of the Berkeley Group, will transform a 10-acre Marks & Spencer warehouse site into 1,465 homes set around a four-acre public park.
The scheme will also include commercial, office, community and leisure space, and will be connected to the Westfield London shopping centre via a new bridge across the London Underground Central line.
It is thought that the development will generate £615m of investment, create 620 jobs in construction, 350 permanent jobs on completion, and deliver just over 30% affordable housing on and off site.
The site, which St James bought for about £100m, is due to be vacated in July 2016 and construction is planned to start shortly after. The scheme will be delivered in several phases over a 15-year period.