Currie & Brown and T&T among those set to carry out work for north-east institutions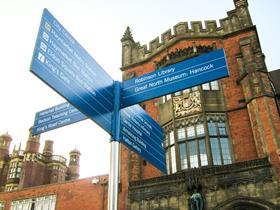 A host of consultants including Currie & Brown and Turner & Townsend have been appointed to an £80m framework set up by five universities in north-east England.
The framework is being used by Newcastle (pictured), Durham, Northumbria, Sunderland and Teesside Universities under an initiative called the North Eastern Universities Purchasing Consortium.
The work has been split into four lots with Faithful + Gould and Gardiner & Theobald among the others joining Currie & Brown and T&T on the project management lot.
In all, 16 firms have landed spots on the framework, which as well as PM work, covers architect and design team related services along with financial advisory services on projects worth up to £50m for the next five years.
The design and architect lot has been split into two – with firms appointed to work on deals above and below £4m.
Local practices FaulknerBrowns and Ryder Architecture are among the firms to be handed spots on the higher value lot.
Durham university has launched a number of the projects in the past 12 months, with Galliford Try appointed to deliver both its £32m sports park and its £40m Centre for Teaching and Learning.
The teaching and learning centre was designed by framework winner FaulknerBrowns.
Construction Professional Services Framework Agreement for North-Eastern Universities
Lot 1 - Project Management Related Services
Currie & Brown
Faithful + Gould
Gardiner & Theobald
Identity Consult
Summers — Inman Construction and Property Consultants
Turner & Townsend
Lot 2 - Architect and Design Team Related Services (up to £4m)
ADP Architecture
Gotch Saunders and Surridge
Howarth Litchfield Partnership
NORR Consultants
Sadler Brown
Space Architecture (Europe)
Lot 3 - Architect and Design Team Related Services (over £4m)
ADP Architecture
FaulknerBrowns
Gotch Saunders and Surridge
NORR Consultants
Ryder Architecture
Space Architecture (Europe)


Lot 4 - Financial Advisory Services
Cushman and Wakefield Debenham Tie Leung
Grant Thornton UK
Turner & Townsend